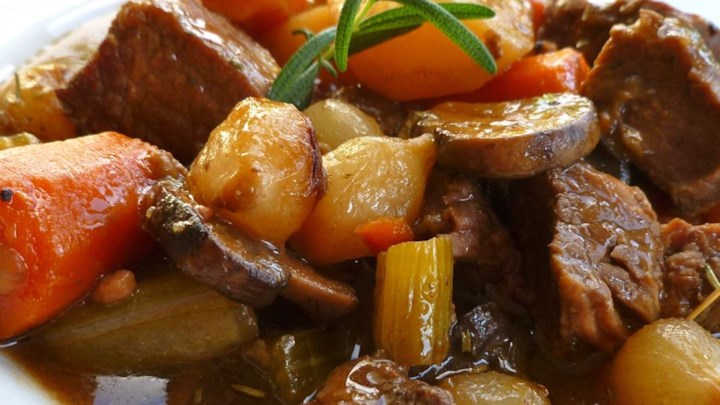 As the weather is cooling slightly, it's a wonderful time to start thinking about fall recipes. Beef stew is one of my favorites.
There is just something to me that says "Winter is coming" with a big hearty bowl of beef stew. It's delicious, has healthy ingredients, and you can even make a huge batch of it, and freeze it for later use for a night that you don't feel like cooking this upcoming winter. Pairing beef stew with a delicious home-baked (yes, buying frozen dough and baking it counts as home-baked!) bread makes the perfect meal for a long, chilly night with your family.
Autumnal Beef Stew
Ingredients:
2 LBS stew beef cut into cubes or small chunks
10 small red potatoes cut into quarters
1 LB baby carrots
1 large red onion, cut into small chunks
1/2 a stick of butter
1 TBS flour
1 Cup beef broth or water
1 tsp each of: salt, dried parsley flakes, & garlic powder
1/2 tsp each of: pepper, celery seed, & dried thyme
Directions:
Place potatoes, carrots and onions in a 5+ quart crock pot/slow cooker
brown your beef cubes in a pan with the butter
After browning beef, add to slow cooker
Stir flour into the beefy pan drippings until mixed, then cook and stir until browned
Add the water, then bring to a boil and cook while stirring for approximately 2 minutes or until thickened
Add in all of your dry ingredients to the pan drippings, mix, then pour over beef in the slow cooker
Cook on low for 8 hours or on high for 4 hours
Serve with crispy buttered bread
Enjoy!
Beef stew is the quintessential dinner for a chilly winter's day. It can fill you up with its hearty goodness, and make you feel warm and comfortable even in the midst of a winter snowstorm. It's easy to make, and delicious to eat. Even picky children usually like this beef stew, even if they end up picking out the onions!
If you want to make this recipe you must have a slow cooker. If you don't have a slow cooker, DealDash has auctions for slow cookers quite frequently. DealDash can offer you a great deal on a slow cooker, and you can have fun bidding, as well. Just click this link here and it will take you to DealDash. Good luck and happy bidding everyone!