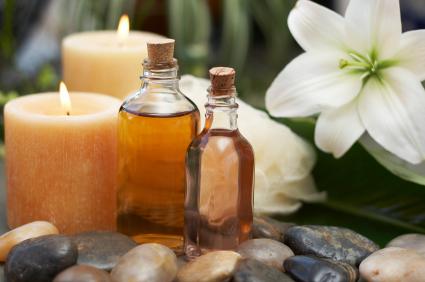 The simplest definition of aromatherapy is "the use of aromatic plant extracts and essential oils in massage or baths." Here is a little more information about aromatherapy to see if it's right for you.
Many people use aromatherapy (also called essential oil therapy), some for medical reasons, and others because they enjoy the smells that aromatherapy uses. Aromatherapy can be used as a treatment (or possibly prevention) of disease or a skin condition by using essential oils. You can also use essential oils for pain and anxiety reduction, enhancement of energy, relaxation, reduction of eczema-induced itching, and many other uses. Some of these uses are scientifically proven, such as lavender for relaxation. Others are more anecdotal in nature.
There are three ways to apply aromatherapy to your lifestyle. The three ways are:
Aerial diffusion: This way is ideal to use essential oils to make your house smell wonderful, or for aerial disinfection.
Direct inhalation: Direct inhalation is used for respiratory disinfection, using as a decongestant, mucus expectoration, and also for psychological effects.
Topical application: Topical application is used for applying essential oil directly to the skin. Please note that most essential oils are not meant to be applied to the skin without a carrier oil such as grapeseed oil.
If you decide to start yourself on a course of aromatherapy, please make sure that you have cleared it with your doctor. Also, before using essential oils on the skin, you should perform a skin patch test by applying a small amount of the diluted oil behind the wrist and covering it with a band-aid for a few hours. If redness or irritation occurs, the oil should be diluted further with the carrier oil and a second skin test performed, or it should not be used at all.
I hope that you found this article on aromatherapy helpful. If you're interested in using an aromatherapy oil diffuser you can find some very attractive decorative diffusers. DealDash has many decorative sculptures and works of art for auction. Check DealDash before you decorate. Just click this link here and you can browse the auctions on DealDash. Good luck and happy bidding everyone!