Busy kids are better behaved and happier. Keep your kids busy on the weekends with these ideas from DealDash.
With most kids back in school, most parents are wondering what to do to keep their child busy on the weekends. Of course, this is once homework and any chores are done! Too many parents worry about time spent with electronics but are unsure as to what to have their kids do. Here are some tips to keep your kids busy (and happy) on the weekends, from DealDash.
Crafty Kids are Happy Kids
Doing crafts is a wonderful way to spend some time on the weekends. There are countless crafts that you can do with kids of all ages. My daughter and I absolutely love to do crafts. For example, smaller kids could make a dollhouse out of shoe boxes or older kids could learn a craft like knitting or sewing. If you enjoy a craft this might be a great time to teach your child that craft.
I order a lot of packages, so I have many small to medium-sized cardboard boxes on hand. My daughter likes to design houses for our cats with them. She draws lines to show me where to cut and then she decorates the houses with markers. This is fun for both her and the cats since the cats like to scratch on the houses she makes. If your family has cats, bunnies, hamsters, or guinea pigs your kids might enjoy making them small houses out of cardboard boxes.
Go Outside Before it's too Cold
Spending time outside with your kids is another way to keep them busy on the weekends. You could set up a treasure hunt for younger kids or play some type of outdoor sport with older kids. Not only is being outdoors with your kids a fantastic way to spend time with them it is also a great way to help keep them healthy as well.
You should try to maximize the time with your kids outdoors while the weather is not too cold. Small kids should not be outside in the cold weather too long, and should always wear layers including gloves or mittens and a hat. Spend some time playing outside with your kids before it's too cold.
Get Outdoor Toys from DealDash
If you and your kids are playing outdoors on the weekends you should get some fun outdoor items from DealDash. There is a large selection to choose from in the Hobbies, Toys, Outdoors, and Games category on DealDash. Click here to check out everything from sports equipment to ride-on toys. If your kids like to play outdoors be sure to see what DealDash has up for auction today!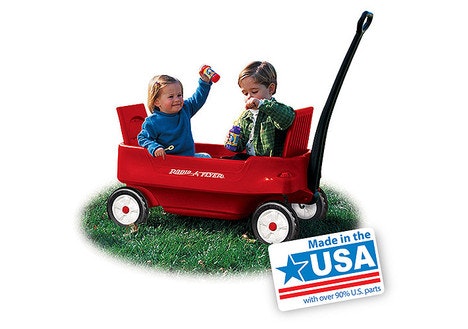 Get a Job!
If your child is older you might want to suggest getting a part-time job on the weekends. This would be an excellent way for them to learn some responsibility and they will enjoy having some spending money of their own. Younger kids can earn money as well.  They can do anything from setting up a lemonade stand to mowing lawns or shoveling sidewalks. It is a great way to keep them busy on the weekends.
Thanks for Reading
So keep these tips in mind the next time that you hear your child say that they are bored or there is nothing to do on the weekend. Using these ideas from DealDash you will be able to help them find something to keep them busy that they will enjoy doing.
Thanks so much for reading this DealDash article on keeping your kids busy and happy. Don't forget to check back here soon for new articles. Also read our sister blog, DealDash Tips. We love to hear from our readers, just leave a comment down below. Let us know your favorite thing to read about!
DealDash has toys and outdoor items to keep kids busy. DealDash has auctions for fun toys. Also, gift cards can be found on DealDash. Visit DealDash now to see how much you can save. Have a great time on DealDash and happy bidding everyone! 
This sponsored DealDash blog article was written by Dawn E, a mother of 3 who loves DealDash. Dawn was compensated for writing this article. This blog is written by real DealDash customers. The opinions and advice shared here represent our customers' views and not those of the company. Read even more on DealDashTips.com, or on her own blog, DawnBlogtopus.