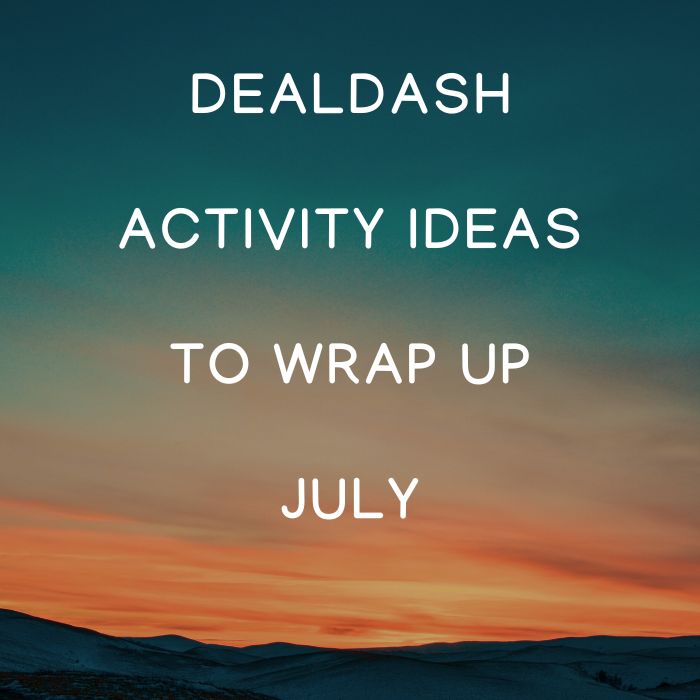 Can you believe that we are almost to the end of July? Let's wrap up the month with some fun activities!
July is a month filled with sunshine, warmth, and endless possibilities for summer fun. As the month draws to a close, it's time to make the most of the remaining days and create lasting memories. In this blog post, we will explore some top events and activities that will help you wrap up July with a bang. Read on for some fun suggestions from DealDash.
Music Festivals and Concerts
July is the perfect time to check out the vibrant music scene near you. There are numerous festivals and concerts that take place during this time all across the US. Check out local listings to find live performances near you, whether it's a small outdoor concert or a larger-scale music festival. Enjoy the rhythm, soak up the atmosphere, and dance the night away with friends and family.
Outdoor Movie Nights
There's something magical about watching a movie under the stars on a warm summer night. Many communities organize outdoor movie screenings in parks or open spaces. Grab a blanket, some popcorn, and your loved ones, and enjoy a classic film or a new release in a unique and relaxed setting. Also, be sure to see if there are any drive-in movie theaters near you. Check the site Drive-In Movie and search by state.
Beach Days
If you're lucky enough to live near a beach or have access to one, make it a priority to spend some time there before the month ends. Pack a beach bag with essentials like sunscreen (at least SPF30!), towels, and snacks. Take a dip in the cool, refreshing water, build sandcastles, play beach volleyball, or simply relax and soak up the sun. It's the perfect way to unwind and savor the last days of July.
Local Festivals and Fairs
Many towns and cities organize festivals and fairs during the summer months. These events often feature live music, food vendors, art exhibitions, and various activities for all ages. Explore your community's event calendar to discover what festivals or fairs are happening near you. It's a fantastic opportunity to embrace local culture, try new foods, and engage in exciting activities.
DealDash Always Brings the Fun
No matter which of these fun activities you choose to do, DealDash can enhance your experience with fun items. What fun do you want to get up to this summer? Have you had a chance to try pickleball yet? If not, you will be pleased to know that you can get your very own pickleball paddle set – it even comes with glow-in-the-dark pickleball! You will even find junior pickleball paddle sets for the kids.
Thanks for Reading
As July comes to a close, there's still time to indulge in summer fun and create unforgettable memories. Whether you choose to attend a music festival, enjoy an outdoor movie night, spend a day at the beach, or explore local festivals and fairs, make the most of the remaining days of July and embrace the spirit of summer.
So, don't let the end of July pass you by without experiencing some summer fun. Take advantage of the warm weather and the plethora of events and activities available. Embrace the joy and spontaneity of the season, and create lasting memories that will carry you into the rest of the summer. Be sure to check out DealDash for some great summer items before the autumn sneaks up on us. Thanks so much for reading, and happy bidding everyone!
This sponsored DealDash blog article was written by Dawn E, a mother of 3 who loves DealDash. Dawn was compensated for writing this article. Check out Dawn and her cats on Instagram! This blog is written by real DealDash customers. The opinions and advice shared here represent our customers' views and not those of the company.