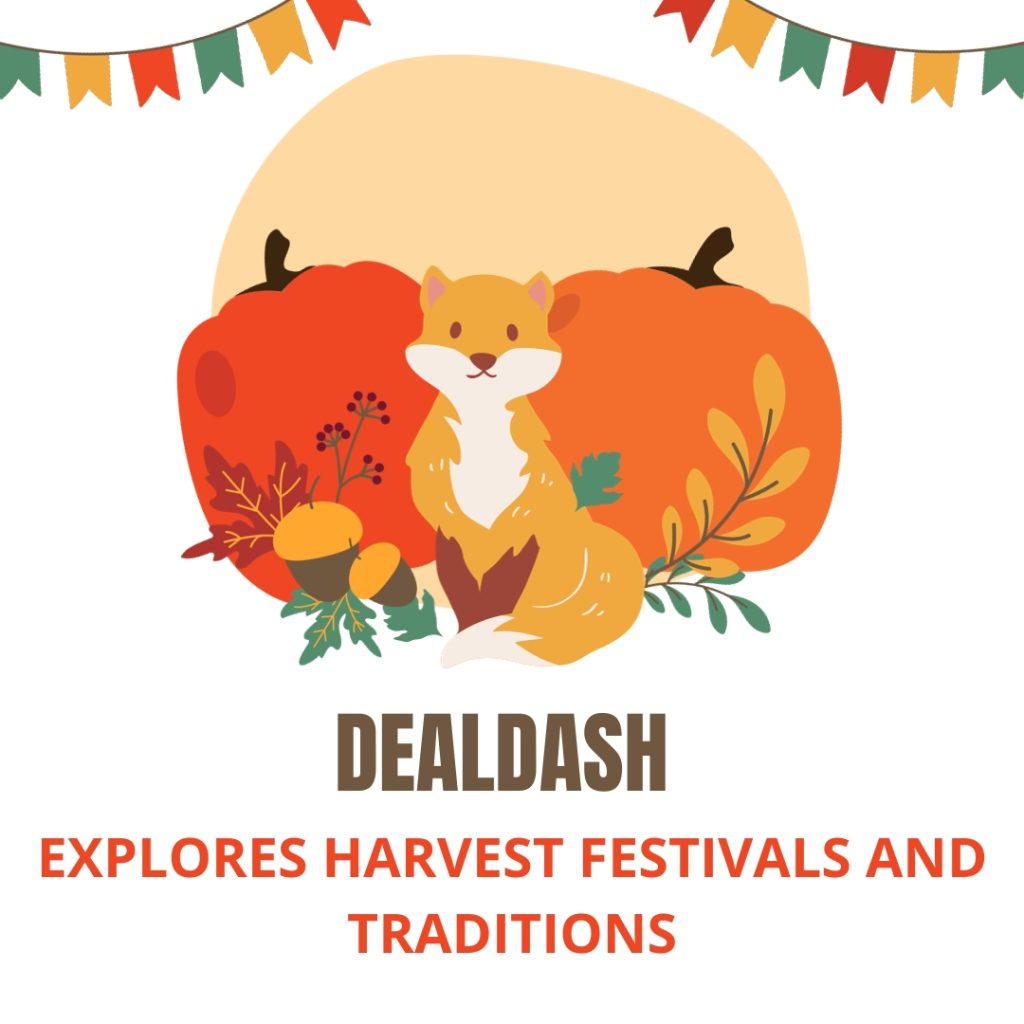 Here in New England, we are getting ready for all of the local fairs and harvest festivals that autumn has to offer. It's my favorite time of the year – do you love it, too?
Harvest time has always held a special place in the hearts of people all over the USA. It is a time to celebrate the bounty of the land, give thanks for the crops, and come together as a community. In the United States, harvest festivals and traditions draw from both cultural influences and regional practices. This creates an exciting and varied array of celebrations that we here at DealDash are very excited to explore with you.
Thanksgiving – A Time of Gratitude
Undoubtedly, the most well-known harvest celebration in the USA is Thanksgiving. Tracing its roots back to the early Pilgrims in 1621, Thanksgiving is a time to gather with loved ones and reflect on blessings. The iconic feast, with turkey, stuffing, cranberry sauce, and pumpkin pie, not only tantalizes the taste buds but also serves as a reminder of the harvest's abundance. While the historical context is tied to the Pilgrims and Native Americans, today's celebrations have evolved to focus on gratitude, family, and the joy of sharing. And on a personal level, Thanksgiving has always been my favorite holiday.
The Autumnal Delight of Apple Festivals
Come autumn, numerous towns across the US, especially in apple-growing regions such as Washington, New York, and Michigan, celebrate the apple harvest. Apple festivals typically feature everything from apple picking and cider tasting to pie-eating contests and hayrides. It's a time for families to take in the crisp autumn air and revel in orchard-centric activities. This is also the time of year when many children go on apple-picking field trips. There is nothing like a freshly picked apple to kick off the fall.
Corn Mazes and Pumpkin Patches
Corn mazes, a quintessential fall tradition, are intricate paths carved from towering cornfields. They offer both an exciting adventure and an ode to the significance of corn in American agriculture. Complementing this tradition are pumpkin patches, sprawling fields dotted with bright oranges, and deep greens of pumpkins and gourds. Families often spend hours selecting the perfect pumpkin, later carved into jack-o'-lanterns for Halloween or used in savory and sweet dishes.
After carving up your pumpkin into a jack-o'-lantern, don't waste those pumpkin seeds! Clean and dry them in preparation to roast up a yummy treat. Check out the All Recipes site for a pumpkin seed recipe that can't be beaten!
Native American Harvest Celebrations
The Native American tribes, long before the arrival of European settlers, had their own set of harvest traditions. The Green Corn Festival, for instance, is a ceremonial event among Southeastern tribes like the Creek, Cherokee, and Seminole. It's a time to give thanks for the corn crop, with rituals, dancing, and feasting. In the spirit of respect, modern celebrations often incorporate elements of these indigenous traditions, recognizing the First Nations' deep connection to the land.
Oktoberfest – A Germanic Legacy
Though Oktoberfest has its roots in Munich, Germany, its spirit of merrymaking has found a home in the US. Numerous cities, big and small, host Oktoberfest celebrations, marking the occasion with traditional German music, dances, attire, and, of course, beer. While not a harvest festival in the strictest sense, the timing of Oktoberfest coincides with the season, adding another layer to America's fall festivities.
Winery Harvests
You don't need to be in New England or the Midwest to enjoy a good harvest festival. The grape harvest in regions like California's Napa Valley and Oregon's Willamette Valley culminates in vibrant celebrations. Wineries often host grape stomping events, wine tastings, and tours, allowing visitors a firsthand experience of the wine making process from vine to bottle.
Cook Fall Harvest Goodies – DealDash Can Help!
One of the best parts about attending harvest festivals is bringing home goodies such as apples, pumpkins and gourds, and more. When you get your fruits and veggies home, you will want to cook them with the best kitchen tools. If your pots, pans, and small appliances have seen better days, DealDash is ready to come to the rescue! In the Kitchen and Dining category, you will find top-rated products such as air fryers, pressure cookers, and even beautiful cast iron pots. All of these items have reviews that you can read from real DealDash customers who have won them. Be sure to check out the reviews every time you decide to bid on an item.
Thanks for Reading
The tapestry of harvest festivals and traditions in the USA is a testament to the country's diversity and agricultural heritage. Whether it's the deep-seated history of Thanksgiving or the joyous excitement of children at an apple festival, these celebrations serve as a yearly reminder to appreciate the land's bounty. In addition, these festivals and get-togethers can strengthen our community bonds. As leaves turn golden and the air grows crisp, there's truly no better time to partake in these uniquely American festivities. Join us in partaking in a harvest festival, then bring home some veggies to cook in your new DealDash kitchen items. Thanks so much for reading, and happy bidding everyone!
This sponsored DealDash blog article was written by Dawn E, a mother of 3 who loves DealDash. Dawn was compensated for writing this article. Check out Dawn and her cats on Instagram! This blog is written by real DealDash customers. The opinions and advice shared here represent our customers' views and not those of the company.