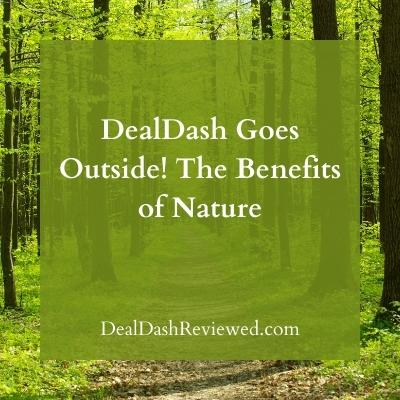 Now that the weather is nicer, it's the perfect time to get outside and enjoy nature.
There's something about getting outdoors and enjoying nature that just makes everyone feel better. Whether you're taking a walk in the park, hiking a trail, or simply sitting on your porch enjoying the sun and fresh air, spending time outside has some amazing benefits for your health and wellbeing. In this blog post, we'll discuss some of those benefits and how you can get more nature in your life! Read on for some helpful suggestions from DealDash.
Nature Helps Reduce Stress & Boost Energy
One of the best things about nature is that it can help reduce stress and anxiety. If you're feeling overwhelmed or anxious, spending some time outside can help you feel more calm and grounded. Nature has a way of helping us
forget our worries and problems, even if just for a little while. And there's nothing wrong with that!
In addition to reducing stress, spending time in nature can also boost your mood and energy levels. Being outdoors has been linked with increased happiness and decreased feelings of depression. So if you're feeling low, get outside! Even a short walk in the park can make a world of difference.
Nature Boosts Health and Wellness
Spending time outdoors is great for your physical health as well. Getting fresh air and exercise are both important for maintaining a healthy body and mind. Being outdoors has been linked with improved heart health, stronger bones and muscles, and a lower risk of obesity.
Sometimes it's hard to break out of your routine and do something new. However, there are plenty of resources to help. The Back Road Ramblers site has an informative article with 32 easy ways to get outside more often.
DealDash Gets You Back Into Nature
Finally, after hearing about all of these great benefits of nature, I'm sure you're ready to get outside. DealDash can help with all of your outdoor gear. You will find things like tents, small camping gear, and rugged outdoor bundles. When you get one of these items from DealDash, it will help you spend more time outdoors in nature. Check out all of these items, and more, in the Hobbies, Toys, Outdoors, and Games category.
Thanks for Reading
Thanks for reading the newest article from DealDash. These are just a few of the many benefits of spending time in nature. If you're looking to improve your health and wellbeing, make sure to get outside more often! And remember, DealDash has all the gear you need to enjoy the outdoors, from camping gear to hiking equipment. Visit DealDash now for all your outdoor needs!
This sponsored DealDash blog article was written by Dawn E, a mother of 3 who loves DealDash. Dawn was compensated for writing this article. Check out Dawn and her cats on Instagram! This blog is written by real DealDash customers. The opinions and advice shared here represent our customers' views and not those of the company.