DealDash Fall Prep: Winter is Coming!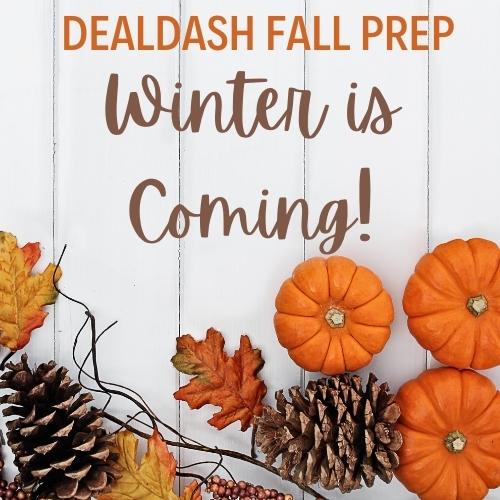 Are you as excited for fall as I am? Enjoy the autumn while it lasts – winter is on its way.
The leaves are changing color and the temperature is dropping…it's definitely fall! This is the time of year when many people start to prepare for winter. There are a lot of things you need to do to get ready for the colder temperatures. In this blog post, we will discuss a few things you should do before winter arrives! Read this new DealDash article for fall prep tips.
Fall Prep – Winterize
One important thing that you need to do in the fall is to winterize your home. This means making sure that your home is ready for the colder weather. You should seal any cracks or gaps around doors and windows to keep out the cold air.
You should also insulate your pipes to prevent them from freezing.
Fall Prep – Stock Up!
Another thing you need to do before winter arrives is to stock up on warm clothing and supplies. This includes things like coats, hats, gloves, and scarves. You should also have a few blankets on hand in case it gets really cold.
In addition to clothing, you should also make sure that your pantry is stocked up with canned goods, gallon water jugs, and batteries for your flashlights and lanterns. You should also have an emergency kit that includes things like a first-aid kit, food (like meal bars), and bottles of water.
If you're wondering what to pack in your emergency kit, check the National Weather Service site. You will find an excellent article with suggestions on how to pack your emergency preparedness kit.
Fall Prep – Check Your Car
Before winter arrives, you should make sure that your car is in good condition. This means getting it serviced and checking the tires. You should also keep a spare tire in your trunk, just in case you get a flat. You should also have a few essential items in your car, like jumper cables and a flashlight.
DealDash Can Help With Fall Prep
If you're looking for some great deals on winter clothing and supplies, be sure to check out DealDash. You can find everything you need to get ready for winter, and you will definitely have fun bidding. Simply browse the site, and you will find flashlights, water filters, and other emergency supplies.
Thanks for Reading
These are just a few things that you need to do before winter arrives. By following these tips, you can be sure that you and your family will be prepared for whatever the winter throws your way! Thanks for reading this blog post, and be sure to start your winter preparations today. Have a great day, and happy bidding everyone!
This sponsored DealDash blog article was written by Dawn E, a mother of 3 who loves DealDash. Dawn was compensated for writing this article. Check out Dawn and her cats on Instagram! This blog is written by real DealDash customers. The opinions and advice shared here represent our customers' views and not those of the company.