Be Fashionable With DealDash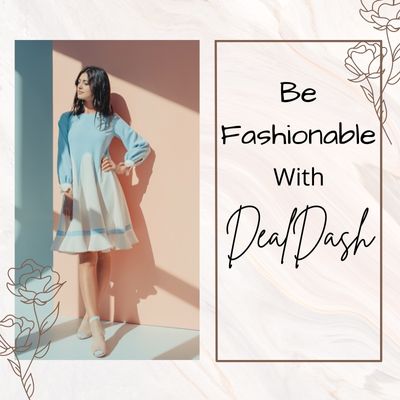 Have you taken a good look at your wardrobe lately? If you aren't happy with your current look, maybe it's time to go shopping.
Looking your best is essential, no matter what you do in life. When you feel confident in your appearance, it shows. And when you look fashionable, people take notice. That's why knowing about the latest fashion trends and how to put them together yourself is important. You will be pleased to know that DealDash has all the information you need to become more fashionable!
Be Fashionable – Work With Your Body Type
There are many fashion trends that come and go, but there are also some classics that always remain in style. One of the most important things to remember about fashion is that you should dress for your body type. Not every trend will
look good on everyone, so it's essential to find something that flatters your figure. Once you've found a style that works for you, stick with it!
If you're not sure what your body type is, don't worry. Style Craze has a great article that can help you determine which category you fall into. Once you know your body type, you'll be able to find clothes that fit well and look great on you.
Be Fashionable – Accessories From DealDash
Accessories are a great way to add a personal touch to your outfit and make it your own. They can also help you pull off a certain look. For example, if you're going for a more casual vibe, you might want to add a pair of sunglasses or a hat. If you're dressing up for a night out, consider adding a statement necklace or earrings.
No matter what your style is, there are accessories that can help you achieve it. And with DealDash, you can get them for a great price! So don't wait – start shopping for fashion accessories today. No matter if you're shopping for a watch, a wristlet or purse, or even shoes for a night out, DealDash has you covered.
Be Fashionable – Get Creative
Remember, fashion is all about having fun and expressing yourself. So don't be afraid to experiment with different styles until you find something that you love! And once you've found a look that works for you, rock it with confidence. And remember, you don't have to stick with just one style. Spice your life up by mixing modern pieces with classic staples. The most important part is to wear things that make you feel confident and comfortable.
Thanks For Reading
I hope this article has inspired you to start working on your fashion sense. DealDash has all of the clothing, accessories, and more that you need to put together the perfect outfit. So head on over to DealDash and start shopping today for jewelry, accessories, and more.
Thanks so much for reading. Do you have any fashion tips that you'd like to share? Leave a comment down below. Have a great day, and happy bidding everyone!