DealDash Helps: Stay Motivated Working from Home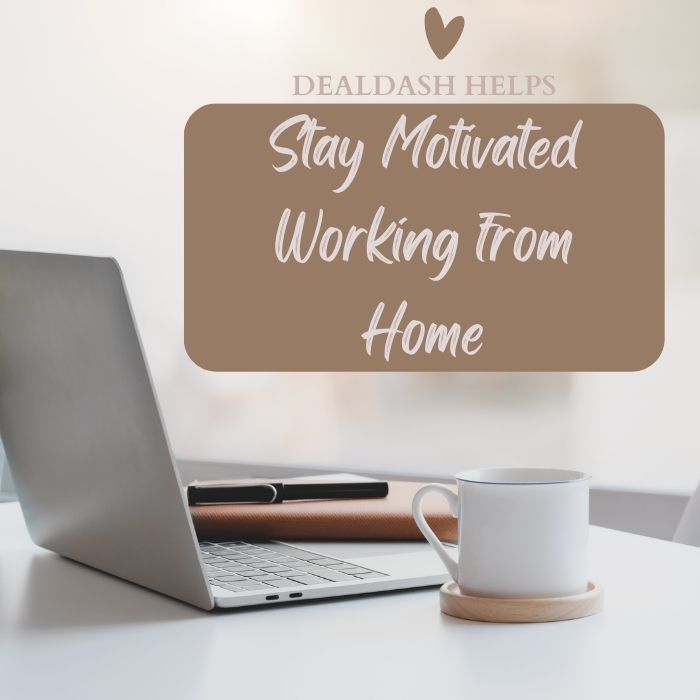 Many companies are still allowing their employees to work from home, at least part of the time. Sometimes it can be hard to stay motivated.
Working from home has become increasingly popular in the past few years, with many people finding the flexibility and convenience a great benefit. However, it can be difficult to stay motivated when you're working at home as opposed to in an office or other workspace. The key is finding ways to keep yourself organized, productive, and inspired while at home. We've put together some tips that you can use to help boost your motivation for working from home. Let's take a look at these helpful suggestions from DealDash.
Stay Motivated Tip – Set Realistic Goals Each Day
Just for starters, you should begin by Setting realistic goals each day. Find tasks that will take 30 minutes or less to complete. Make sure they are achievable within the time frame so you won't feel overwhelmed by large goals. When it comes to longer-term projects, break down the work into manageable chunks and identify the steps needed to reach completion. This will help keep you on track by creating a clear roadmap toward success.
Stay Motivated Tip – Have a Dedicated Workspace
Setting up a dedicated workspace is also important to staying motivated when working from home. Pick the perfect spot to get the job done, whether it be your bedroom, living room, or an exclusive office at home. Wherever you choose must be comfortable enough yet still promote productivity, like having minimal distractions. Preparing your workspace beforehand, such as clearing away any clutter and making sure there are adequate lighting sources, will create a more positive environment while you work.
Stay Motivated Tip – Be Sure to Take Breaks
Take regular breaks throughout the day, especially if working from home starts feeling repetitive and dull. Schedule midday walks outside to get some fresh air and shift your focus before getting back into work mode.
Additionally, it's hard to be focused on work when you're hungry. Even if you don't like to take a full meal break, be sure to take small 5-10 minute breaks throughout the day. During these quick breaks, you can grab a snack such as an apple or granola bar to keep your energy up and focused throughout the day.
Need more tips for making the most of working at home? Check out this Pinterest board that I put together to give you some more ideas.
Reward Yourself – DealDash Can Help
Finally, reward yourself for any milestones achieved (large or small). Celebrating these victories no matter how minor can help improve morale while providing positive reinforcement which serves as motivation for pushing forward with further goals!
With DealDash, you can reward yourself for all the hard work you put into working from home. From electronics such as headphones and tablets to small household items, and even jewelry – there's something for everyone! With DealDash, you can also get great deals on clothing and accessories to upgrade your wardrobe, or even gift cards so that you can treat yourself to a little extra something. With auctions running 24 hours a day, there's always something new waiting to be discovered. So go ahead and reward yourself with the latest gadgets and gizmos at DealDash today!
Thanks for Reading
Working from home requires discipline and structure in order to maintain productivity levels while staying motivated. Everyone works differently, but by using these tips as starting points, you can develop your own strategies for managing workflow and keeping yourself healthy. These ideas will give you the insights you need to make sure that your well-being is always a priority. Don't forget to pick yourself up a little reward on DealDash such as a watch, an art piece, or even a tablet. Now get back to work! Thanks so much for reading, and happy bidding everyone.
This sponsored DealDash blog article was written by Dawn E, a mother of 3 who loves DealDash. Dawn was compensated for writing this article. Check out Dawn and her cats on Instagram! This blog is written by real DealDash customers. The opinions and advice shared here represent our customers' views and not those of the company.