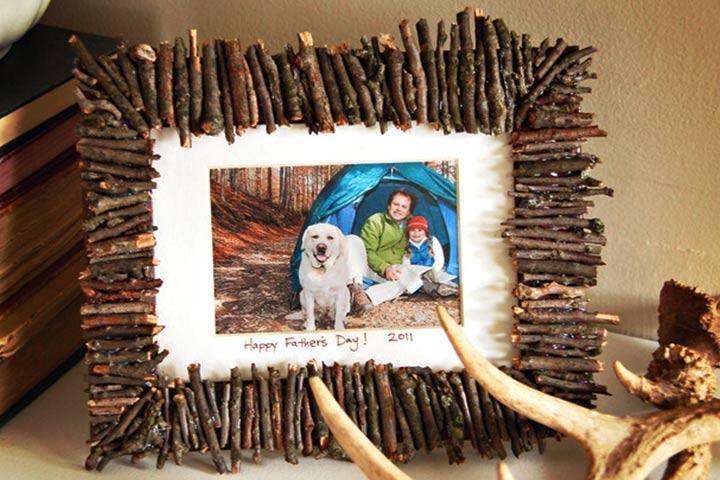 Making a picture frame with your kids is a fun craft to do together. Here are some tips to make a variety of different frames, from DealDash.
If you are looking for a fun craft to do with your children you will want to consider a picture frame craft. A picture frame craft can be done very inexpensively and there are a variety of different things that you can do. Here are a few ideas to get you started, from DealDash.
Old CD Picture Frame
First, you can take a picture of your child and attach it to a CD that you are not using any more. The CD can be decorated with things like stickers. It makes a bright and shiny picture frame craft to enjoy. If you have a lot of old CDs, then you can make a lovely collage of picture frame CDs.
Crafty Polymer Clay Frame
Another way to get really creative you can help your child make a picture frame out of polymer clay. You can really do a lot with this crafting clay like make flowers or other embellishments for the frame, too. Once it dries you are ready to enjoy your frame. Most of the popular brands of clay need to be baked in the oven. Also, be sure that you are available to help your kids with this part of the craft.
All Natural Frame
Next, if your child enjoys nature-themed crafts you can make a nature-inspired frame by gluing things like pine cones, shells, and also small pebbles to a sturdy frame. It would really make a lovely decoration and your child will have fun hunting around outside to find everything for their frame.
Yarn Wrapped Frame
If you enjoy crafting with yarn and fibers you can make a nicely designed frame. Just take a ball of yarn and wrap it around a cardboard picture frame until the frame is completely wrapped. It can really make a run and funky looking frame if you use different colors and types of yarn.
Playful Toy Frame
Finally, another cool idea would be to take things small doll or action figure accessories and glue them to a frame. You can tailor what you use to the child making the picture frame craft to make it really personalized. Also, it would be fun to make a frame each year decorated with whatever they are really into that year such as dinosaurs, horses, etc. Don't forget to put the year so you can look back fondly when they get older.
Thanks for Reading
Finally, picture frame crafts can be a lot of fun to do. So when you are looking for something new to do with your kids definitely consider a picture frame craft. They are the perfect way to display your favorite pictures.
Also, if you need any crafting supplies including picture frames, glue, or yarn you can get them online at a big box store such as Wal-Mart. DealDash has gift cards to Wal-Mart which is an excellent place to get your crafting supplies.
Thanks so much for reading this DealDash article on crafting picture frames with your kids. Don't forget to check back every day for new articles here. Also read our sister blog, DealDash Tips. We love to hear from our readers, just leave a comment down below.
DealDash has gift cards to get picture frames and craft supplies. DealDash has auctions for great gift cards. All the gift cards that you need can be found on DealDash. Visit DealDash now to see how much you can save. Have a great time on DealDash and happy bidding everyone! 
This sponsored DealDash blog article was written by Dawn E, a mother of 3 who loves DealDash. Dawn was compensated for writing this article. This blog is written by real DealDash customers. The opinions and advice shared here represent our customers' views and not those of the company. Read even more on DealDashTips.com, or on her own blog, DawnBlogtopus.