When I asked my daughter what she wanted to do this upcoming weekend her answer surprised me. She said she wanted to have a backyard campout.
My son used to request backyard campouts when he was younger, but my daughter was always too scared to participate. I guess this summer is going to be filled with fun nights of camping out in the backyard. It's the perfect compromise of sleeping out under the stars, yet be close enough to a bathroom, kitchen, and a bed if it starts raining!
If you've never had a backyard campout it's pretty simple to do. All you truly need is a tent, some sleeping bags or blankets that you don't mind going outside, and some kind of lighting for the little ones. We do our backyard camping on our deck, so we cheat a little bit and just turn the deck light on. However, if you have older, braver kids then you might be able to get by with a camping lantern or even flashlights.
One of the best parts about backyard camping (other than the aforementioned bathrooms!) is playing games and telling stories. Here are a couple of fun games that you and your family can play while you are backyard camping.
Obstacle Course – You can easily turn your backyard items into a fun obstacle course for little kids, big kids, and even adults. You can let them jump over low hedges and bushes, do a tightrope walk on the garden hose, crawl under the deck chairs, do a lap around the whole house, and then back to the start. You can make this into a race, and even more fun than a single person race is if you team up a little kid with an older sibling or parent. It's fun to see the older kids working with the younger ones.
Photo Bug Hunt – Photo bug hunt is exactly like it sounds! Make a list of easily found and identified bugs such as ladybug, ant, bee, spider, moth, etc. and send the kids or teams out with a camera or camera phone and see who is the first to bring back pictures of all the bugs on the list.
Bean Bag Ladder – Using a ladder from your shed or garage tape a paper declaring the number of points each step will receive. Make a line on your grass with tape, spray paint, or a garden hose. Have people stand behind the line and toss bean bags onto the ladder steps. If you have little kids playing this you might want to have a closer throwing line for them to make things more fair. If you don't have any bean bags you can always fill up some ziplock bags with rice or beans, and if you double ziplock it they should still be intact enough to withstand the game so you can still use them to cook with after you are done with them.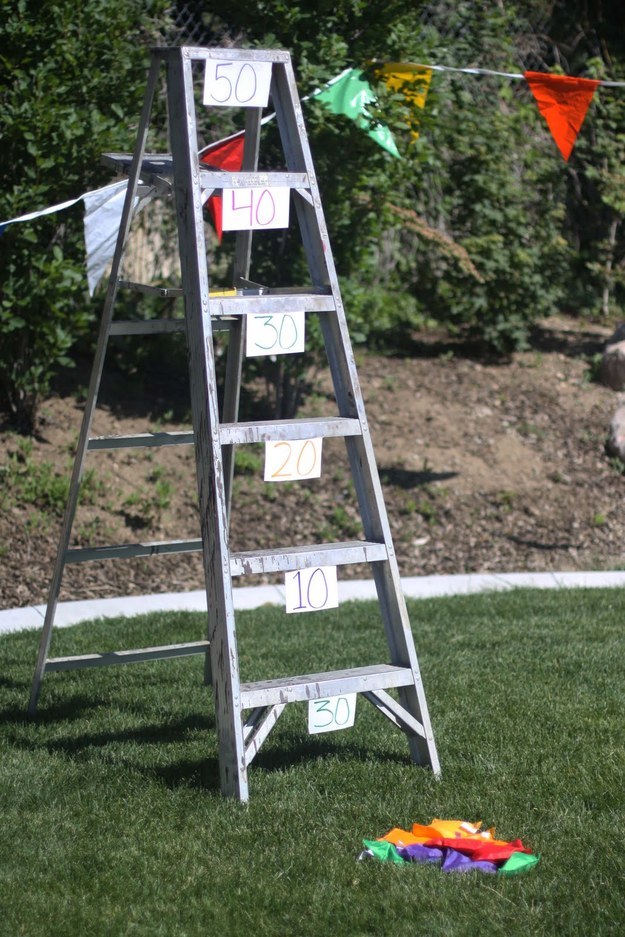 If backyard camping appeals to you then head on over to DealDash and pick up some camping supplies. DealDash has tents, sleeping bags, and plenty of other things that you can use for your backyard campout. Good luck and happy bidding everyone!