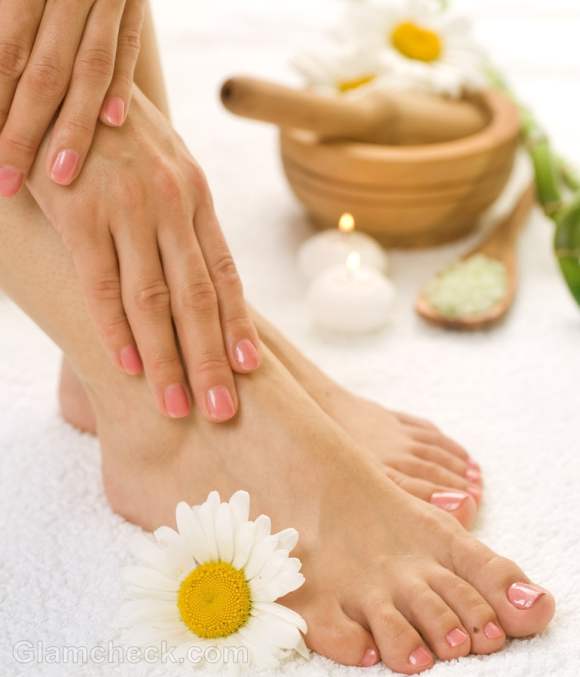 Summer is ending soon, and with the fall and winter weather comes dry, cracked feet and heels. Stop it before it starts with this foot care routine.
If you've been wearing sandals and flip-flops, and even going barefoot this summer your feet probably need some TLC before the winter sets in and your skin gets dry and itchy, and even more sensitive than before. This foot care routine can be done weekly or as often as you need it. Here's to a winter with soft, beautiful feet.
Start off your foot care routine with a nice, lukewarm foot bath. Let your feet soak in water with epsom salts, lavender essential oil, tea tree oil, or even a bit of Johnson & Johnson's baby wash.
Next, scrub your feet with a scrub brush or a foot file. Try to concentrate on your heels, and wherever else you feel needs some extra attention.
Lastly, whip up a batch of this super-soothing foot balm and slather it on.
Ingredients:
2 tablespoons beeswax
4 tablespoons shea butter
2 tablespoons coconut oil
1 tablespoon honey
10 drops tea tree oil
20 drops lavender essential oil
Directions:
Combine the beeswax, shea butter, and coconut oil in a glass measuring cup or bowl.
Bring approximately 3 inches of water to a boil in a small saucepan. Reduce heat to low. Place the glass measuring cup or bowl in the pan and melt the ingredients together.
While your mixture is still warm, and immediately pour the liquid mixture into a storage container. This container can be made of thick plastic or glass, and be sure that it has a lid so you can save some of your foot balm for multiple uses.
Before your mixture is completely cool, Stir the honey into the balm.
Add 20 drops of lavender essential oil, and 10 drops of tea tree oil and stir again to completely combine all of the ingredients.
After your foot bath and scrub, apply the balm to your feet concentrating on the heels to soften and soothe dry skin. Put on a thick pair of socks (preferably bamboo material) and wear them overnight to lock in the moisture and relieve cracked heels.
I hope that this article has inspired you to preemptively protect your feet against the weather. DealDash has a wonderful category called Fashion, Health, and Beauty. If you're in need of some pampering, let DealDash help. Just click this link and you will be taken to DealDash. Good luck and happy bidding everyone!