DealDash's Back-to-School Shopping Tips 2023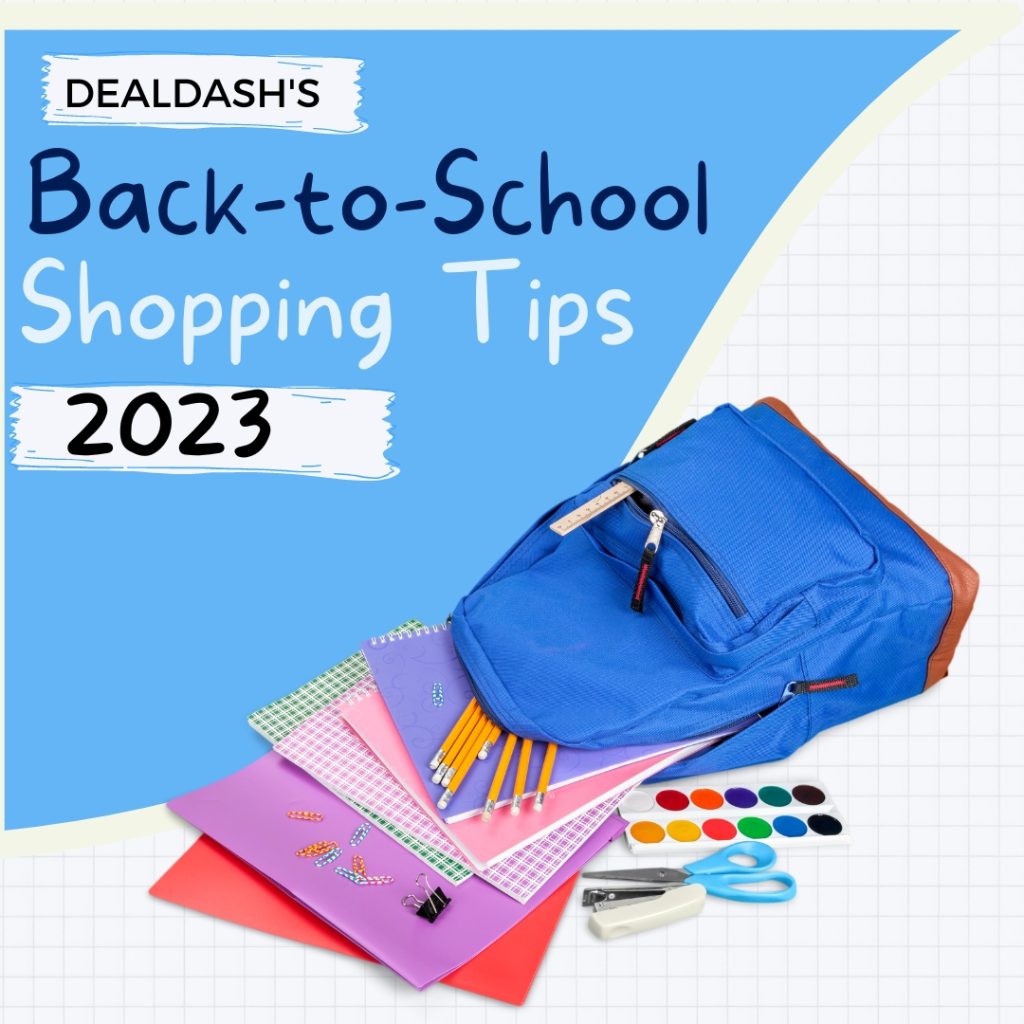 Now that it's August, be sure to check your town's website for school shopping supply lists. You don't want to end up with the leftovers!
Getting everything your child needs for the new school year can seem overwhelming, but it doesn't have to be. By planning and organizing your shopping, you can make sure you get everything without spending too much money. DealDash is here to help you and your kids get ready for the new school year.
Back-to-School Shopping Essentials
There are many categories of items that comprise school shopping. You may need items from all of these categories or just a few. Take a peek at these suggestions, then make a list of the things your kids need for the new school year.
Clothes: Your child will need a variety of clothes for different occasions, including school, extracurricular activities, and casual wear. Be sure to choose clothes that are comfortable, stylish, and appropriate for the climate.
Shoes: Your child will need a good pair of shoes for school. Look for shoes that are supportive, comfortable, and durable.
Backpack: Your child will need a backpack to carry their school supplies. Choose a backpack that is the right size for your child and that has plenty of compartments for organization, a water bottle, etc.
School supplies: Your child will need a variety of school supplies, including pencils, pens, notebooks, folders, binders, and calculators. Be sure to check with your child's school to see what specific supplies they will need.
Electronics: If your child needs electronics for school, such as a laptop or tablet, be sure to factor those into your budget. However, be sure to check with your child's school first – many schools offer Chromebooks for free to borrow during the school year.
Other essentials: There are a few other essentials that you may need to get for your child, such as a lunch bag, water bottle, and rain gear.
Once you have a list of the essentials that you need, you can start shopping. There are a few different places where you can buy back-to-school supplies, including department stores, discount stores, and online retailers. When you are shopping, be sure to compare prices and look for sales. You can also save money by buying school supplies in bulk.
If you have a little bit of extra money in your budget, consider buying a few supplies for the classroom. The website Classful has an article with a list of the classroom items that teachers always need.
DealDash Has School Shopping Supplies
When it's time for school shopping, DealDash is the place to try first. Looking for cool outerwear and accessories for school? DealDash has them! Or maybe you're looking for electronics like headphones and tablets. Not to worry, DealDash has them all! No matter what sort of supplies your kids need for school, be sure to check DealDash first.
Additional School Shopping Tips
Here are a few tips for shopping for back-to-school essentials that will help you save both time and money.
Start shopping early: The earlier you start shopping, the more likely you are to find the best deals.
Compare prices: Don't just buy the first thing you see. Take the time to compare prices at different stores.
Look for sales: Many stores have sales on back-to-school supplies in the weeks leading up to the start of school.
Buy in bulk: If you have more than one child, or if you know that your child will need a lot of supplies, consider buying in bulk.
Shop online: You can often find great deals on back-to-school supplies online.
Enlist your child's help: Let them help you choose their clothes, shoes, and other supplies. This will help them feel more involved in the process and make them more likely to wear and use the things you buy.
Set a budget: Before you start shopping, decide how much money you are willing to spend. This will help you stay on track and avoid overspending.
Be flexible: Things don't always go according to plan when you are shopping. Be prepared to change your plans if you find that something you need is out of stock or too expensive.
Have fun! Back-to-school shopping can be a fun activity for the whole family. Make it a special day and enjoy spending time together.
Thanks for Reading
Back-to-school shopping doesn't have to be stressful. Following these tips, you can get everything you need for your child's new school year without breaking the bank. Be sure to make a list, look for sales, and shop early for the best results. Also, be sure to visit DealDash for high-quality items that your kids will love. Thanks so much for reading, and happy bidding everyone!
This sponsored DealDash blog article was written by Dawn E, a mother of 3 who loves DealDash. Dawn was compensated for writing this article. Check out Dawn and her cats on Instagram! This blog is written by real DealDash customers. The opinions and advice shared here represent our customers' views and not those of the company.