DealDash Rests Over the Holidays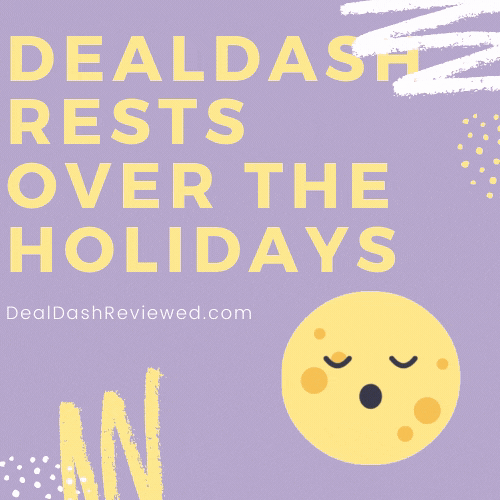 This holiday season is going to look very different this year. Why not use the time to become well-rested? Here are some suggestions from DealDash.
Many times, I end up exhausted at the end of the holiday season. From the cooking and cleaning to entertaining friends and relatives – I'm exhausted. However, this year the holiday season will be very different. Why not use your extra free time at home to become well-rested? Here are some easy ideas, from DealDash.
Become Well-Rested With Naps
Firstly, who in the world typically has time to take naps? From work to kids to cooking and cleaning, there just isn't enough time in the day to take naps. However, if you will have a few days or even a week or two off work/school for the holidays, it's time to nap! That's right, it's time to go back to a much simpler time when you had plenty of extra time in your day to squeeze in a nice hour long nap. You can catch up on your sleep and become well-rested by napping daily during your days off.
DealDash Has Comfy Bedding and Robes
Secondly, another great way to become well-rested is to have comfortable and high-quality bedding. DealDash has the things you need to become well-rested, and also to beautify your bedroom. Not only that, but you will also find other comfy items such as bathrobes and towels. You will sleep comfortably and soundly when you get your bedding from DealDash. Remember, you spend about one quarter of your life in your bed!
Ease Up on the Electronics
Next, electronics such as cell phones, tablets, and laptops can affect your sleep. This holiday season is a great time to "reset" a healthy balance when it comes to your electronics. Having a few days or weeks off for the holiday season seems like it might be the perfect time to binge on electronics, but consider the alternative.
The blue light emitted from many screens can affect your sleep if used too close to bedtime. And let's face it, many of us love to lie in bed and endlessly scroll on our phones before bed. The Sleep Foundation has an excellent article on how different electronics can affect your sleep.
Cut Down on Indulging
Eating rich foods and drinking too much alcohol is something that will have you feeling exhausted over the holidays. Consuming too much rich food and alcoholic drinks can have you not wanting to do anything in particular which can lead to over-using electronics. Which, as we discussed before, can affect your sleep. Of course, you don't have to stop consuming your favorite foods and drinks! Just cut down a little, and you will feel the benefits.
Read about the 5 best reasons to shop online this year as it's more important to stay home.
Thanks for Reading
Keep these things in mind as you strive to become well-rested over the holidays this year. Try these tips and you'll be feeling more energetic in no time! Thanks so much for reading this DealDash article on sleeping and rest.
Do you need bedding and home decor? Be sure to check DealDash for sheets and duvet covers. DealDash has the comfy bedding that you need. Have a great time on DealDash and happy bidding everyone!
This sponsored DealDash blog article was written by Dawn E, a mother of 3 who loves DealDash. Dawn was compensated for writing this article. Check out Dawn and her cats on Instagram! This blog is written by real DealDash customers. The opinions and advice shared here represent our customers' views and not those of the company.