DealDash Budget-Friendly Home Decor 2023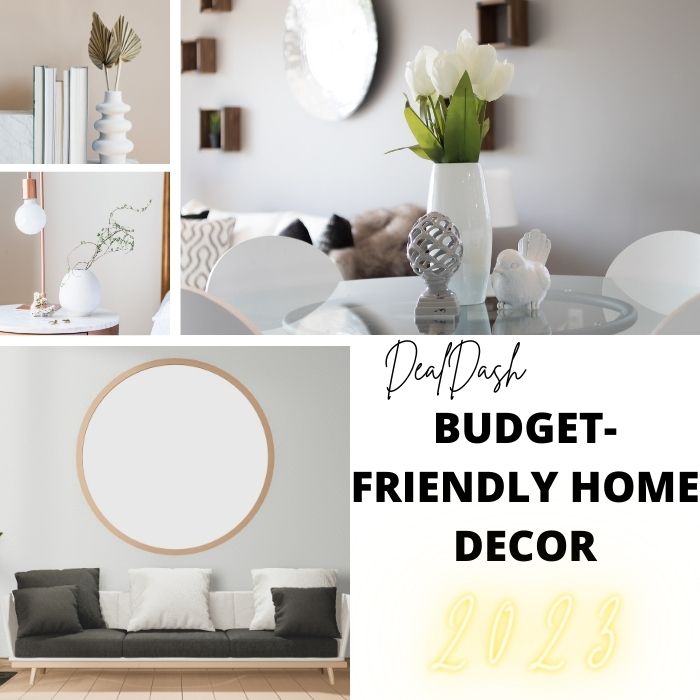 It's a new year, don't you think it's time to update your home decor? Let's get some ideas to try without breaking the bank!
Are you looking to spruce up your home with some stylish decor, but don't want to break the bank? With these budget-friendly home decor ideas, you can give your space a fresh look without spending too much. Read on for some helpful suggestions from DealDash.
Budget-Friendly Tip – Thrift Store Shopping
Thrift stores are a great place to find unique items at bargain prices. By shopping at your local thrift store, you can get vintage furniture, artwork, and textiles for way less than the retail price. Plus you never know what treasure you might come across!
If you would like to get started thrift shopping, but don't know where to look, no problem! Check out the Thrift Shopper website. Simply put in your city and state, or zip code. It will find thrift shops near you with reviews to help you choose where to go.
Budget-Friendly Tip – DIY Home Projects
If you're feeling creative, why not try some DIY projects? You can repurpose old furniture or refresh existing pieces with a coat of paint or new hardware. Or create art or wall hangings from found objects like driftwood and sea glass. There are plenty of tutorials available online to help guide you in giving your home an upgrade on the cheap!
Budget-Friendly Tip – Shop at Discount Stores
Discount stores and liquidators can be excellent sources of affordable home decor options. If you're looking for higher quality items like furniture or rugs, browsing these stores may surprise you with what kind of deals they offer! In addition, many big box stores offer seasonal discounts that make home decor purchases even more affordable.
Bring the Outdoors In
Bringing nature inside is another budget-friendly way to freshen your home's look. Whether bringing in potted plants or accenting with natural materials such as driftwood pieces, using elements from outdoors can add warmth and texture to any room – all without breaking the bank!
DealDash is a Great Place to Begin Your Decor Makeover
Shopping for home decor on DealDash can be a great way to find stylish items and save money. With DealDash auctions, you can get quality furnishings and accessories at a fraction of the cost. On DealDash, you'll find everything from wall art and beautiful rugs to furniture and small appliances. With DealDash, there's no need to break the bank when decorating your home in style.
Thanks for Reading
Don't let a limited budget limit your design options – use these budget-friendly home decor ideas and give your space a fresh update without breaking the bank this year. Thanks so much for reading, and be sure to check DealDash for home decor like lamps, sheet sets, and rugs. Have a great day, and happy bidding everyone!
This sponsored DealDash blog article was written by Dawn E, a mother of 3 who loves DealDash. Dawn was compensated for writing this article. Check out Dawn and her cats on Instagram! This blog is written by real DealDash customers. The opinions and advice shared here represent our customers' views and not those of the company.