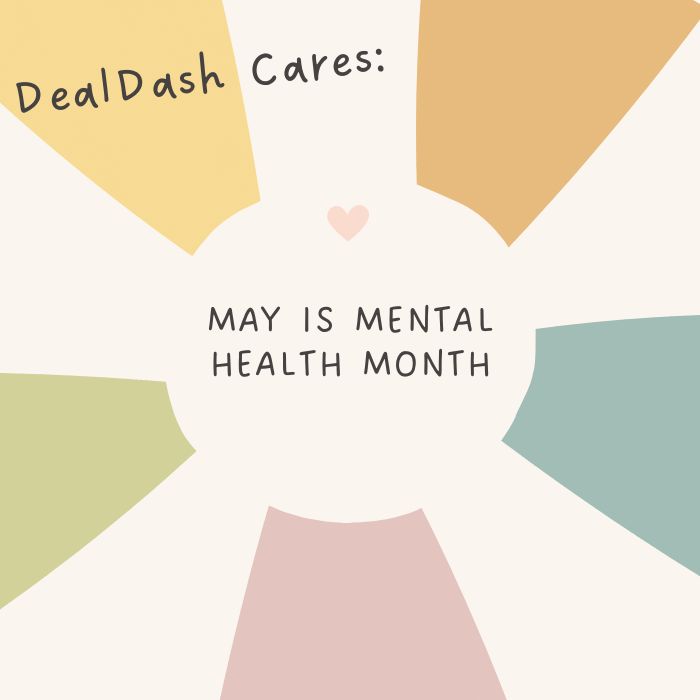 May is mental health awareness month. Let's talk about how to be aware of how you're feeling and how to help.
Mental health is an important part of overall health and well-being. It affects how we think, feel, and act. These problems can range from mild to severe and can affect anyone, regardless of age, gender, race, or socioeconomic status. In this article from DealDash, we will explore mental health and see what we can do to help.
Mental Health in May
Mental health awareness is important because it helps to break down the stigma associated with mental illness. It also helps to raise awareness about the signs and symptoms of mental health problems, so that people can get the help they need. Be on the lookout for friends and family that might be struggling, and let them know that you care about them and want to help.
How to Raise Awareness
There are many things that we can do to raise awareness about mental health. Try talking about it with our friends, family, and colleagues. We can share information about it on social media. Also, we can support organizations that are working to improve mental health care.
If you are struggling with your mental health, please know that you are not alone. There are many people who care about you and want to help. There are also many resources available to you. Please reach out for help if you need it. Check out the Mental Health First Aid site for some helpful resources.
Tips for Improving Your Outlook
Get enough sleep
Eat a healthy diet
Exercise regularly
Spend time with loved ones
Do things that you enjoy
Talk to someone you trust if you are struggling
Treat yourself kindly
DealDash Can Help You Treat Yourself
One of the best ways to treat yourself kindly is to get yourself something to improve your life. Just think about your daily life. Is there anything that could make your life easier? DealDash has lots of items that can make your day go more smoothly. One of the things that makes my life easier is having a robot vacuum. I love the fact that my floors are always nice and clean without me even having to lift a finger.
Another way to treat yourself is to get items to help you relax. This varies from person-to-person, but most people find candles, soft cozy blankets, and fluffy plush pillows relaxing. You can find all of these items and many more on DealDash.
Thanks for Reading
Thank you for reading. I hope that this blog post has helped to raise awareness about mental health. If you are struggling with your mental health, please reach out for help. There are many people who care about you and want to help. Therapy can help you to understand your thoughts, feelings, and behaviors. It can also help you to develop coping mechanisms for dealing with stress and difficult emotions. Be sure to try some of the lifestyle changes mentioned above to help. These changes can include getting enough sleep, eating a healthy diet, exercising regularly, and spending time with loved ones. Always treat yourself kindly – and get yourself a treat from DealDash like a soft cozy blanket. Have a great day, and happy bidding everyone!
This sponsored DealDash blog article was written by Dawn E, a mother of 3 who loves DealDash. Dawn was compensated for writing this article. Check out Dawn and her cats on Instagram! This blog is written by real DealDash customers. The opinions and advice shared here represent our customers' views and not those of the company.