DealDash Holiday: Memorial Day is May 29th 2023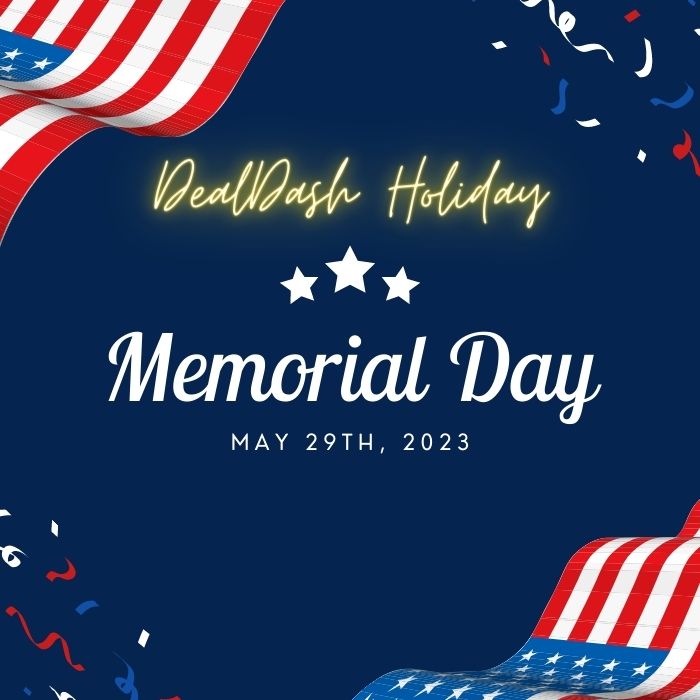 May 29th, 2023 is Memorial Day. Be sure to celebrate it this year with your friends and family.
Memorial Day is a federal holiday in the United States for remembering those who have died while serving in the U.S. military. It is also a time to reflect on the sacrifices that have been made for our country and remember family members who served our country. Read this article from DealDash for a little history, and some suggestions for Memorial Day this year.
Memorial Day History
Memorial Day was originally called Decoration Day and was first observed on May 30, 1868. It was meant to honor those who had died in the Civil War. The holiday was expanded in 1971 to include all Americans who had died while serving in the military. It is a day to remember the fallen, but it is also a day to celebrate their lives and the sacrifices they made. So, this is a solemn day, but it is also a day of hope. It's the perfect holiday to celebrate with those people who are closest to you. Also, be sure to check out the PBS website for more information on this special holiday.
Ways to Celebrate and Honor
There are many ways to celebrate Memorial Day. We can honor our fallen heroes by attending Memorial Day ceremonies, visiting veterans' cemeteries, and flying the American flag. Additionally, another way to show appreciation for those who are currently serving in the military is by volunteering time or donating to veterans' organizations. No matter how you choose to celebrate Memorial Day, it is important to remember the fallen and honor their sacrifices. Memorial Day is a long weekend, so it is a also great time to spend time with family and friends. Enjoy the outdoors, have a barbecue, or just relax and enjoy each other's company.
DealDash Has Barbecue Supplies
Finally, a barbeque in the backyard or even in a park is a common way to spend the long weekend. If you are looking for some new barbeque supplies, DealDash has you covered. One of the things that can make your cookout better is a new grill. You will find different types of grills, cooking supplies, and coolers on DealDash. Also, be sure to check DealDash before you shop anywhere else!
Thanks for Reading
Thanks so much for reading this article, I hope that it gave you some ideas on how to celebrate your holiday weekend. No matter how you choose to celebrate, be it volunteering at a veteran's association or having a barbeque, it's a very special holiday. Visit DealDash for grilling and kitchen supplies 24/7, we never close! Thanks so much for reading, and happy bidding everyone.
This sponsored DealDash blog article was written by Dawn E, a mother of 3 who loves DealDash. Dawn was compensated for writing this article. Check out Dawn and her cats on Instagram! This blog is written by real DealDash customers. The opinions and advice shared here represent our customers' views and not those of the company.