DealDash Fun – May is National BBQ Month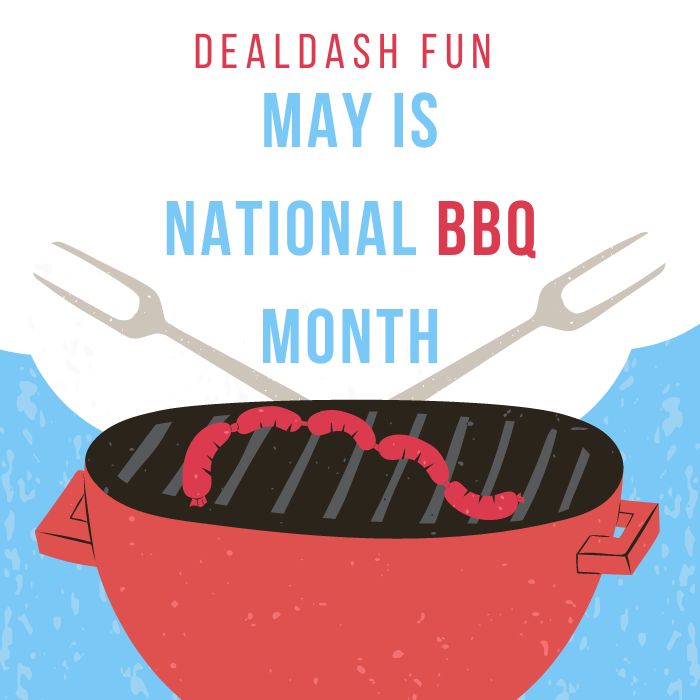 Who doesn't love a good cookout? May is an excellent month to dig out the grill and cook some tasty treats.
May is National BBQ Month, a time for Americans to dust off their grills, invite friends and family over, and fire up some juicy burgers, smoky ribs, and succulent chicken. This month-long celebration of all things grilled and smoked is a perfect opportunity to learn about the history and traditions of barbecuing as well as some of the latest techniques and recipes. So get out those tongs, give them a little "click click", and let's get started on this new article from DealDash.
Quick BBQ History
Just to begin with, barbecue is an American tradition that has been around for centuries and is rooted in the South. There are many different styles of barbecue, each with its own unique flavor profile. Memphis style features dry-rubbed ribs that are slow-cooked over hickory wood and slathered in a sweet and sour sauce. On the other hand, Carolina-style BBQ features pork shoulder cooked in a vinegar sauce and Texas-style has beef brisket slow-smoked over mesquite wood.
No matter which style of barbecue you prefer, National BBQ Month is the perfect time to try something new. Assemble a team and fire up a smoker, experiment with marinades and rubs, and break out some new recipes. If you're feeling extra adventurous, create your own signature sauces and rubs, or try out different types of wood, such as oak or cherry.
Family Style is the Best Style
Of course, National BBQ Month isn't just about experimenting with new flavors. It's also a great opportunity to teach children about the ins and outs of cooking outdoors. From safety tips to assembling the perfect spread, kids can learn the basics of preparing and grilling food while also having fun.
Most importantly, National BBQ Month provides an opportunity to bring friends and family together. Throw a backyard soiree, and invite some neighbors over for a cookout. Then, gather around the campfire and enjoy some s'mores. These special moments of togetherness will create lasting memories and ensure the next generation of family will love to BBQ.
Do you love s'mores but want to try something new? Check out the Shared Appetite website. You'll find an article with 15 Creative S'mores Recipes that your family will love.
DealDash Has Tons of BBQ Supplies
From tongs and knives to gas and charcoal grills, DealDash has it all! No matter what you are looking for to complete the full cookout experience, you will find it on DealDash. Not only will you find the typical gas grills, but you will also be delighted to see high-end quality electric smokers and wood pellet grills. Find all of these items (and more!) in the Hobbies, Toys, Outdooors, and Games category on DealDash.
Thanks for Reading
Unplug from your daily routine this May and take some time to appreciate the art of outdoor cooking. Whether you're a novice to the world of barbecue or a seasoned pro, National BBQ Month is an experience to be shared with friends and family. So break out the grills, light up the coals, and get cooking! Thanks so much for reading, and happy bidding everyone!
This sponsored DealDash blog article was written by Dawn E, a mother of 3 who loves DealDash. Dawn was compensated for writing this article. Check out Dawn and her cats on Instagram! This blog is written by real DealDash customers. The opinions and advice shared here represent our customers' views and not those of the company.