DealDash Pets: DIY Cat Toys You Can Make at Home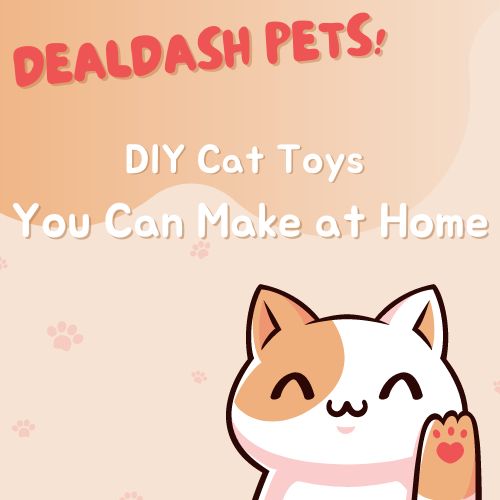 Cats are one of the most popular household pets. They are fun and playful – do your kitties have enough toys at home?
Do you love spending time with your cat? If so, you'll love these fun and easy DIY cat toys. You can make them at home with materials that you probably have lying around the house. Plus, they're a great way to save money on pet toys. Your kitty will love playing with these homemade toys, and you'll love knowing that they're safe and healthy for her to play with. Let's get started with these fun cat toy suggestions from DealDash.
Cat Toys – Crinkle Ball
One of the easiest DIY cat toys that you can make is a crinkle ball. All you need for this toy is a piece of paper and something to crinkle it up with. Simply crinkle up the paper into a ball and your cat will love chasing it around. You can also add some string to the ball for extra fun.
Cat Toys – Cardboard Box Tunnel
Another easy DIY cat toy is a cardboard box tunnel. This is a great way to recycle those old cardboard boxes that are taking up space in your house. Just cut a few holes in the sides of the box and your kitty will have hours of fun running in and out of her new tunnel. You can even decorate the outside of the box with paint or wrapping paper to make it even more fun.
Cat Toys – Homemade Scratching Post
If you have a cat that loves to scratch, then you can make her a homemade scratching post. This is a great way to save money on store-bought scratching posts, and it's also very easy to do. Just wrap a piece of rope or fabric around a sturdy post and your cat will have a new place to scratch. Sisal rope will work the best, and it comes in different thicknesses so you can choose the one that's right for your cat.
DealDash Has Pet Supplies
If you need pet supplies, then check DealDash first. DealDash has a wide variety of pet supplies available, and you're sure to find what you need. From pet beds and water dishes to cat scratching posts and pet carriers, DealDash has it all. So check DealDash today and see all of the great pet supplies that are available.
Thanks for Reading
There you have it, easy DIY cat toys that your kitty will love. These are just a few ideas to get you started. There are tons of other great ideas out there for homemade cat toys. Just do a quick search online and you'll find lots of great suggestions. Check out the Pet Helpful site for some fun ideas. So get creative and have fun making homemade cat toys! Your kitty will thank you for it.
Do you have any favorite DIY pet projects? Share them with us in the comments below and give other pet parents some inspiration. Don't forget to check back here on DealDash Reviewed for more pet tips, tricks, and deals. Thanks so much for reading, and happy bidding everyone!
This sponsored DealDash blog article was written by Dawn E, a mother of 3 who loves DealDash. Dawn was compensated for writing this article. Check out Dawn and her cats on Instagram! This blog is written by real DealDash customers. The opinions and advice shared here represent our customers' views and not those of the company.