DealDash Trick or Treating 101: Safe, Fun Halloween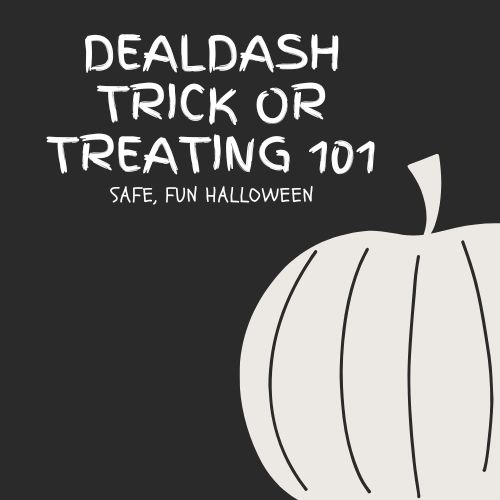 It's time for one of my favorite holidays – Halloween! Free candy? Count me in!
Are you looking for a safe and fun Halloween activity for your family? Look no further than DealDash! This blog post will give you tips on how to have a tremendous trick-or-treating experience. We'll also share some safety tips that will help keep your little ones safe while they're out getting their candy fix. So put on your costumes and get ready to have a spooktacular time!
Get Prepped for a Fun Halloween
One of the most important things to do when preparing for trick or treating is to make sure you have a good, sturdy bag to collect all of your goodies in. A pumpkin bucket or reusable shopping bag are both great options. Be sure not to use a paper grocery bag for collecting treats – they can be bulky and the handles are known for being flimsy. You will also want to make sure you have a flashlight so you can see where you're going and spot any obstacles in your path.
Wearing comfortable shoes is also key – you will be doing a lot of walking! And last but not least, don't forget to dress up! Halloween is the perfect time to get creative and have some fun with your costume.
Locations for a Fun Halloween Experience
Now that you're prepped, let's talk about location. If you live in a neighborhood with well-lit streets and plenty of houses close together, that's a great place to start. If you're not sure about the safety of your neighborhood, there are usually community events held at malls, schools, or churches that offer safe trick-or-treating options. Check the Freebie Finding Mom site for some tips on how to find "trunk or treat" locations near you.
Once you've got your game plan figured out, it's time to hit the streets! Be sure to stay on sidewalks whenever possible and only visit homes that have their porch lights on. And always remember to say "trick or treat!" – it's proper Halloween etiquette!
Fun Halloween Safety Tips
Although trick or treating is a lot of fun, it's important to be safe while you're out and about. Here are some safety tips to keep in mind:
– Stay together! It's always safest to trick or treat with a group. If you go off on your own, make sure someone knows where you're going and when you'll be back.
– Only visit homes that you know and feel comfortable with. If a home looks abandoned or the occupants seem strange, it's best to just keep walking.
– Inspect your candy before eating it. Make sure all the wrapper is intact and that nothing looks tampered with. If in doubt, throw it out!
DealDash Has Halloween Supplies
A DealDash fun Halloween wouldn't be complete without some decorations! Check out what's up for bid this week. You will find spooky upside-down black Halloween trees, costumes, and inflatables. If you're looking for some last-minute Halloween decor, DealDash has your back!
Thanks for Reading
I hope that this blog post has given you some ideas for having a safe and fun Halloween. Trick or treating is a great way to get out and about, meet your neighbors, and score some free candy! Be sure to check the local community events listings for "trunk or treat" options near you. And if you're looking for some Halloween decorations, be sure to check out DealDash. Happy Halloween!
What are your plans for Halloween? Will you be trick or treating with your kids, or attending a community event? Let us know in the comments below! Have a great day, and happy bidding everyone!
This sponsored DealDash blog article was written by Dawn E, a mother of 3 who loves DealDash. Dawn was compensated for writing this article. Check out Dawn and her cats on Instagram! This blog is written by real DealDash customers. The opinions and advice shared here represent our customers' views and not those of the company.