DealDash Future: Using Robot Vacuums and Mops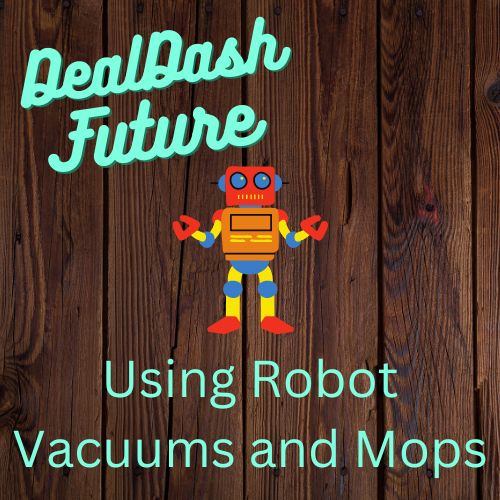 The future is here! No more sweeping and mopping for you – as long as you have a robotic friend to help.
Are you tired of cleaning your house every day? Do you wish there was a way to clean it without having to lift a finger? Well, the future is here! Robot vacuums and robot mops are the latest technology that can help keep your house clean without any effort on your part. In this blog post, we will discuss the benefits of using robot vacuums and robot mops, as well as some tips for getting the most out of them. So read on to learn more, from DealDash.
Benefits of using a Robot Vacuum and Mop
Robot vacuums and mops are great for a variety of reasons. One of the biggest benefits is that they can save you time. Instead of spending hours cleaning your house every week, you can let a robot do it for you while you relax or take care of other tasks. In addition to saving you time, robot vacuums and mops can also save you money in the long run. They are an initial investment, but they will pay for themselves by eliminating the need to hire a professional cleaner or buy expensive cleaning supplies.
Choosing a Robot Vacuum and Mop
If you are thinking about getting a robot vacuum or mop, there are a few things to keep in mind. First, consider what type of floors you have in your home. If you have mostly hardwood floors, a robot mop might be a better option for you. If you have carpeting, a robot vacuum might be the way to go. Second, think about what features are important to you. Some robot vacuums and mops come with apps that allow you to control them remotely, while others have sensors that help them avoid furniture and stairs. Choose the features that are most important to you and compare different models before making your final decision.
Tips for Using Your New Favorite Robots
Once you have your new robot vacuum or mop, there are a few things you can do to ensure that it works properly and lasts for years to come. First, make sure to read the manual thoroughly so that you understand how to use all of the features. Second, create a regular cleaning schedule and stick to it. This will help your robot vacuum or mop last longer and keep your house clean on a regular basis. Finally, be sure to empty the dustbin or water reservoir after each use so that it doesn't overflow.
DealDash Has Robot Vacuums and Mops
DealDash is an excellent place to begin your search for a cleaning robot. Fun fact – I actually got my first two robotic vacuums on DealDash! No matter if you're looking for a new iRobot Roomba or any other of the most popular brands, you will find them up for bid. And the best part about getting your new robotic friend on DealDash – you will always get fast, free shipping. If you're not quite sure which model of Roomba is the best for you, check out this page that compares their features.
Thanks For Reading
By following the tips above, you can get the most out of your new robot vacuum or mop and enjoy all the benefits that they have to offer. Comment below if you have any questions about this blog post or anything else related to robots vacuums and mops. Thanks so much for reading this new post. Have a great day, and happy bidding everyone!
This sponsored DealDash blog article was written by Dawn E, a mother of 3 who loves DealDash. Dawn was compensated for writing this article. Check out Dawn and her cats on Instagram! This blog is written by real DealDash customers. The opinions and advice shared here represent our customers' views and not those of the company.