DealDash's Spooky Spirit Pumpkin Carving Ideas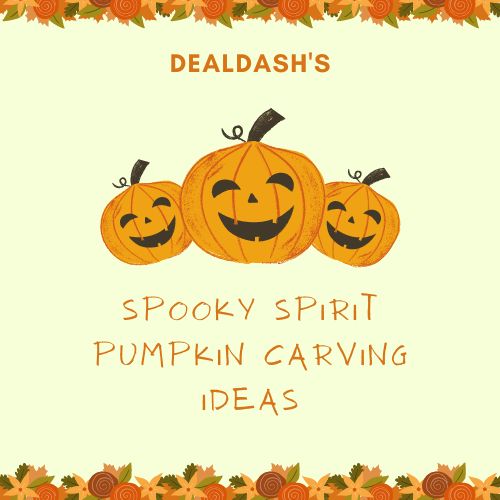 It's spooky season!! Let's carve some pumpkins!
Horray for Fall! As the days grow shorter and the leaves start changing color, pumpkin spice everything starts appearing in stores. It can only mean one thing: Halloween is coming! If you're looking for some spooky spirit pumpkin carving ideas, look no further. In this blog post, we will discuss a variety of different carving styles to help you create the perfect jack-o'-lantern for your home. We'll also provide some tips on how to make the process easier and more fun, so read on for some pumpkin carving suggestions from DealDash.
Pumpkin Carving Ideas – Faces
One of the most popular types of pumpkin carving is creating a face on the front of your pumpkin. This can be as simple or as complex as you want it to be – there are so many options for different faces and expressions that you could spend hours experimenting with different ideas. Some tips for making your jack-o'-lantern look more realistic include adding shading around the eyes, nose, mouth, and any other details that stand out from the surface of your pumpkin. Additionally, try using stencils to help guide your design for an even more professional look.
Pumpkin Carving Ideas – Sculptures
Another fun way to carve pumpkins is by creating sculptures or patterns on their outer surfaces. You could opt for a geometric design, or try creating a scene or pattern inspired by your favorite movie or book. There are so many possibilities when it comes to pumpkin sculpting – the only limit is your imagination!
Check out this article from House Beautiful for some amazing ideas for your next pumpkin sculpture.
Pumpkin Carving Tips
Whether you're new to pumpkin carving or an experienced pro, there are always ways to make the process easier and more fun. Some tips for carving pumpkins include using knives that are sharp and sturdy. You can also go a bit more complicated and use wood carving tools, which is what I do. You can get a wood carving tool set fairly cheaply at your local craft or hobby store.
Additionally, make sure you have proper lighting while working on your jack-o'-lanterns. It may also be helpful to enlist the help of friends and family members who can assist with holding down your pumpkins while you carve them, especially if they tend to be large and unwieldy.
DealDash Will Get You into the Spooky Spirit
So if you're looking to get into the spooky spirit this year, be sure to check out DealDash for decorations and costumes. You will find some excellent spooky home decor and amazing items for the lawn. Start browsing now and get ready to make your home look amazing this Halloween.
Thanks for Reading
So there you have it – some great ideas for spooky spirit pumpkin carving this Halloween. Whether you choose to create a simple face or an elaborate sculpture, the most important thing is that you are having fun and letting your creativity shine. Happy carving! And remember, if you're looking for great deals on all things Halloween, be sure to check out DealDash! Happy bidding, everyone.
This sponsored DealDash blog article was written by Dawn E, a mother of 3 who loves DealDash. Dawn was compensated for writing this article. Check out Dawn and her cats on Instagram! This blog is written by real DealDash customers. The opinions and advice shared here represent our customers' views and not those of the company.