DealDash Kids: Get Started With Sports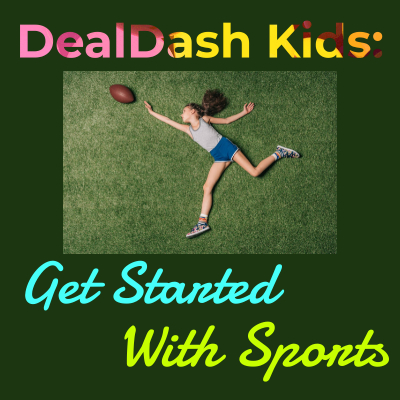 After the past year and a half stuck mostly inside, many kids would love to get started with sports. There are many benefits and few downsides.
Sports are a great way for kids to get exercise and stay healthy. Whether your child is an athlete or not, sports can be a lot of fun! With so many options available, it can be confusing to know where to start. This blog post will cover the basics of how you can help your children get started with sports: choosing what sport they want to do, joining teams at school or in town, and more. Read on for some helpful information from DealDash.
Why Get Started With Sports?
Just to start off this guide about getting kids involved in sports, it's important to first understand why they should participate. Kids who are involved with sports have healthier lifestyles, but also have more opportunities to make friends. Being on a team can be helpful as well with cognitive functions like problem-solving, and self-control. This will also make learning easier for students of all ages. Plus, being engaged in an activity teaches your child important values such as perseverance—if something doesn't go well, try again.
How Do You Help Your Child Choose?
Next, it's also important to know what sports your child is interested in and how they can get involved. For example, if your child likes basketball you could sign them up for a youth league in your town, or encourage them to try out for the team at school. Most schools, even elementary, offer some sports after school. For instance, my kid's elementary school offers both soccer and basketball.
Also remember, team sports are great, but there are a variety of other individual sports that your kids might like as well. If your kid prefers solo or duo you should let them try karate, tennis, running, or even fencing! If you are having trouble finding a sport that your child is interested in, try this article from the Mayo Clinic. It has a helpful list of which sports are best for different age groups, from toddlers to teens.
Getting Started With Sports? DealDash Can Help
Finally, the best way to get your kids started with sports is to lead by example. Get your kid interested in sports by joining them and participating as well. That's what my husband does with our son—he plays basketball every day after work. Our boy also has his own hoop, which he loves playing on. A fun way to get exercise and enjoy your family is by playing a game of kickball or basketball. Kids are smart, so engage them in the activity that you want as well because they will notice if you're not willing to do it yourself!
Exercise is one of the best ways to spend time as a family. This will encourage your kids to want to participate in sports. However, you will also need the right equipment for the job. To start, check out DealDash's Hobbies Toys Games and Outdoors category for everything from ping pong tables to bikes and sports equipment!
Thanks for Reading
This is really just the beginning of simple things that you can do to help your children get started with sports. Thanks so much for reading this DealDash article. And remember though some people may think of tutoring when they hear about learning opportunities after school, just because something isn't academic doesn't mean it's not important! Sports teach valuable life lessons such as perseverance and teamwork.
Do you need sports and outdoor items? Go check DealDash for outdoor games and sports items up for bid. You will find lots of things to make your kids excited about sports. Visit DealDash now to see how much you can save. Have a great time and happy bidding everyone!

This sponsored DealDash blog article was written by Dawn E, a mother of 3 who loves DealDash. Dawn was compensated for writing this article. Check out Dawn and her cats on Instagram! This blog is written by real DealDash customers. The opinions and advice shared here represent our customers' views and not those of the company.