DealDash Tech: Choose the Right Wireless Speakers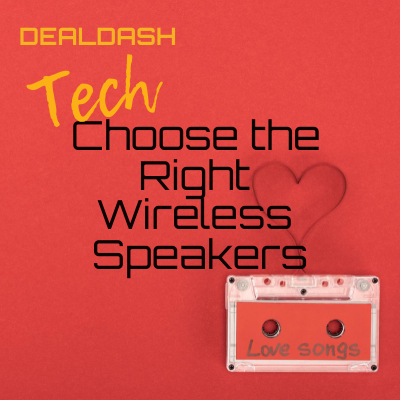 If you don't have wireless speakers for your home, you're missing out. If you're considering getting some, you need to choose the right ones.
Many people are always looking for ways to upgrade their home entertainment experience. Wireless home speakers have become a popular trend as it enhances the audio/music listening experience of people. The market is full of different varieties and makes of wireless speakers. Hence, it becomes really challenging for an individual to make an appropriate purchase decision. In order to select the best wireless speaker, you need to decide where you are going to use it and what features you are looking for. Here is a guide helping you pick the right one for your home entertainment system, from DealDash.
Where Will You Put the Wireless Speakers?
Just to begin with, wireless home speakers are one of the most popular means to upgrade the home entertainment experience. They provide a more dynamic range of sound compared to standard wired speaker setups. Also, as they are wireless, there is lesser clutter in terms of wiring or power cords.
The first thing that you want to consider is where you will be using these speakers. Are they for the living room, a home theater, or even a finished basement? Depending on where you are planning on putting the speakers can determine
which ones that you should get. For example, if you are looking to use them in your living room or den, it is a good idea to get surround sound speakers. This is because most rooms are not square. They are usually about 10 feet wide and 14-feet long. So if you place your soundbar in front of the television, it leaves a lot of empty space to the sides where the speakers aren't even placed.
Do You Want Your Speakers to be "Smart"?
The next thing that you will want to consider is if you need your speakers to be "smart"? Most Bluetooth speakers are capable of more than just streaming music. They provide access to virtual assistants such as Amazon Alexa, Google Assistant, and Siri for smart speaker functionality. Additionally, they feature microphones for not only hands-free calls but voice-activated support from these apps too! Keep in mind, if you are looking for a smart speaker, you will most likely pay more for this functionality. If you are interested in learning more about how smart speakers work, LifeWire has an excellent article that explains it.
DealDash Has Wireless Speakers
Finally, if you have decided which are the right speakers for your needs, DealDash has an awesome selection! You will find all sorts of speakers including soundbar sets, tower speakers, and even portable ones. No matter which speaker that you have decided is the right choice for you, rest assured that DealDash has quality electronics up for bid. If you're not looking for speakers for your home, you will also find earbuds, headphones, and more in the Electronics and Computers category.
Thanks For Reading
Choosing the proper speakers for your home can be tricky at first, however, DealDash is here to help. Follow the suggestions and tips in this article, and you will be able to make a choice for your home. Thank you so much for reading the newest article.
Deciding to get new speakers is a big decision! Check DealDash for Bluetooth speakers for home and also on the go. You'll find headphones, soundbars, and more to help you listen to movies and music. Visit now and save. Have a great day and happy bidding everyone!
This sponsored DealDash blog article was written by Dawn E, a mother of 3 who loves DealDash. Dawn was compensated for writing this article. Check out Dawn and her cats on Instagram! This blog is written by real DealDash customers. The opinions and advice shared here represent our customers' views and not those of the company.