DealDash Kids: Help Set Goals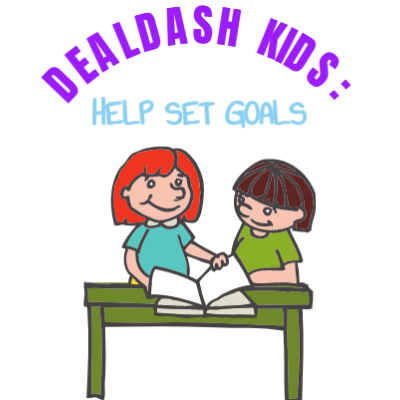 If your kid's school hasn't started in your area yet, it will within the next few weeks. Let's start the year off right by helping them set some goals.
It is a new school year, and with it brings a fresh start for kids. It is time to help set goals! Helping parents figure out what their kids should be working on this year can be difficult. However, this is a wonderful thing that will help your kids, so you need to give it a try! Below are some ideas that you may not have thought of before, from DealDash.
Help Set Goals for Sleeping
Just for starters, all goals are not academic! With that said, make sure your child has plenty of sleep during the week. Younger kids in elementary school need around 9-11 hours of sleep each night, and it's important that they don't fall
asleep in class or at their desks while studying for tests. You as a parent can help them reach the goal of getting enough sleep. Here's how:
Set up a bedtime routine to help them wind down before sleep.
Encourage the child to read for half an hour before bed.
Set a strict wake-up time each morning so they don't feel rushed, and make sure they got at least nine hours.
Create a comfortable environment for them in their bedroom. Let them have a nightlight if they request it, and a white noise machine can work wonders as well.
When kids are younger, parents usually do most if not all the work helping their kids maintain better habits. However, as they grow into adolescence this responsibility shifts to themselves, and you want to make sure that they are prepared by giving them a good foundation of healthy sleep habits.
Homework Goals
Another goal for your elementary school child this year is to make sure that they have 100% completed their homework every single night. This will help them stay on top of all their work and make sure that they don't miss anything. Plus, this will cut down the amount of time it takes for you to do homework with your child. It sounds like a very difficult thing to do, but if you can get them into the habit of doing their homework right after school, it will stick with them throughout their school career. The Spruce has some really cool ideas for setting up a homework station if you are having trouble getting started.
To get started, set a timer for 30 minutes when doing math or reading worksheets so kids can see how long it really takes to complete something like that. Then give yourself an additional 15 minutes if working in pairs because there is more information to read and discuss together as a team. You want your child to be able to finish all of their homework unassisted eventually, but in the beginning, you should sit with them and encourage them. You can help your child get the homework done by providing time during the week so they can do all their assignments without procrastinating on weekends when there is no school. It will give them more quality time with family members too! This may take some negotiating between parents and children (and sometimes teachers) but everyone needs flexibility if kids are going to succeed academically this year.
DealDash Has Stuff For Your Kid's Room
Finally, it's very important for your child to have all of the tools available and at their disposal to be able to achieve their goals. Set them up for success in completing their goals for this school year by making sure they have everything they need. DealDash has some great items for kids in the Home, Garden, and Tools category for their bedrooms. You will find things that kids will love for their bedrooms such as kneeling chairs and standing desks and bedroom furniture for all ages. Having the right items to get enough rest and complete their homework will help them accomplish their goals.
Thanks for Reading
Thanks so much for reading this article on helping your kids set goals for this school year. As parents, it's important that you take part and help set goals for this school year. This article is just the beginning of the goals you can help your kids accomplish.
Do your kids need new bedroom furniture or items for homework? You can get awesome desks, chairs, and other furniture on DealDash. You will find bedroom furniture, office items and more. Visit now and save. Have a great time on DealDash everyone, and happy bidding!