DealDash Keeps Pets Busy Home Alone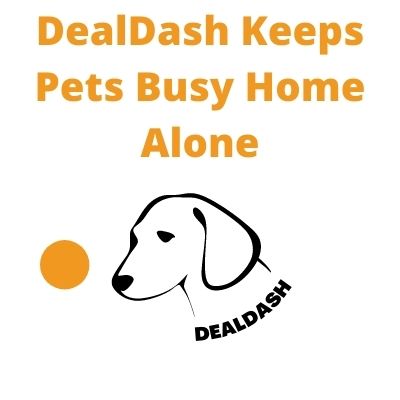 If you're at work all day you need to keep your pet busy while they are alone. Keep your pet happy and busy without breaking the bank!
It can be frustrating for a pet owner to come home from work and find that their cat or dog is bored. This often leads to destructive behavior, which is costly over time. Luckily there are many things you can do to keep your pet busy during the day so they don't get into trouble while you're gone! Use these suggestions from DealDash to get you started.
Food Will Keep a Pet Busy During the Day
Just to start with, whether it's giving them food puzzles, or leaving out treats for them to eat when they wake up, there are plenty of ways to keep your pet occupied. Food puzzles are a perfect example. They will provide not only entertainment but also a tasty meal. The way a food puzzle works is simple. There are multiple compartments that your pet has to figure out how to open with a paw or nose to get the food inside. This might be frustrating for a pet who doesn't know how to use them, though. Be sure that your pet understands before leaving this as their meal when you aren't at home. If you aren't sure which food puzzle is best for your cat or dog, The Strategist magazine has an excellent article with The 18 Best Food Puzzles for Cats and Dogs.
Want to Keep a Pet Busy? Use Automated Toys
Next, another great way to keep an animal happy and engaged during the way is to use motion or touch-activated toys. These will generally require your pet to bat at them or paw them, which can be good for their overall health and mental stimulation. However, these are best used when you're not around because they don't take much training on the owner's behalf. You should save these for when you are away from home so they don't get bored with them quickly from overuse.
These toys often come in the form of a ball or small animal. They are designed to move and be used with your pet's paws, so they'll have an appropriate level of difficulty that will challenge them but not overwhelm them. Plus, these can also provide some mental stimulation. I have one of these toys in the form of a fish. It charges by USB and flops around when something touches it. They are also available in the form of small animals or bouncy balls, which might be more appealing for a dog.
DealDash Loves Pets
Finally, DealDash has tons of toys and supplies that both cats and dogs will love. You won't need any more excuses why your furry friend doesn't have current pet supplies because there are so many good deals here! Take a look around today. See the awesome pet items available like cat scratching trees, bowls for dogs and cats, and pet tents! Before heading off to the office tomorrow, decide which pet item is just right for your family pets.
Thanks for Reading
Thanks for reading the newest article. We all love our cats and dogs. They'll have plenty of time to explore and play on their own when you're at work. Make sure they don't get bored enough that they start scratching up your furniture. Cats and dogs tend to be very destructive when left alone all day! I hope that this article gave you some ideas on how to keep your furry family occupied. Come check out the newest cat and dog supplies on DealDash. You will find some great items and have a fun time bidding. Thanks for reading, and have a wonderful day everyone!
This sponsored DealDash blog article was written by Dawn E, a mother of 3 who loves DealDash. Dawn was compensated for writing this article. Check out Dawn and her cats on Instagram! This blog is written by real DealDash customers. The opinions and advice shared here represent our customers' views and not those of the company.