DealDash Gift Guide for Older Folks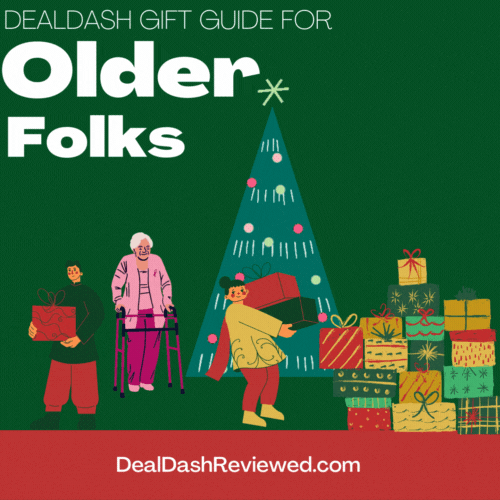 Don't forget Grandma and Grandpa when doing your holiday shopping this year. Older folks deserve presents, too!
Finding Christmas gifts for seniors can be a daunting task. They likely have everything they need and want, so you'll need to get creative to find something that will put a smile on their faces. Here are a few tips to help you find the perfect gift for your loved one this holiday season. DealDash has great gifts for people of all ages, keep reading for some ideas.
Gift Guide for Someone Who Has a Lifetime of Stuff
One of the hardest things about shopping for older people is that they already have a lifetime of stuff. They don't need more knick-knacks to dust, pictures to hang, or gadgets to clutter up their cupboards. So what do you get them? The key is to find something that is both meaningful and useful. A nice piece of jewelry or a framed photo is always welcome, but if you really want to make an impression, consider giving a gift that will help your loved one in their day-to-day life. For example, a comfortable pair of slippers or a cozy throw blanket can significantly affect someone's quality of life. Or how about a gift certificate for a monthly massage or manicure? Whatever you choose, the important thing is to put thought into it and make sure it's something that your loved one will really appreciate.
Gift Guide Tip – Shop for an Experience
When it comes to holiday shopping, many people focus on buying things for other people. However, this year, why not focus on buying an experience or activity instead? There are many benefits of experiential purchases. For one, they can provide long-lasting memories and a sense of enjoyment that lasts long after the initial purchase. Additionally, experiential purchases often involve social activities, which can help to boost your mood and relieve stress. And finally, Studies have shown that people derive more satisfaction from experiential purchases than from material possessions. So this holiday season, instead of adding to your clutter, give the gift of an unforgettable experience.
DealDash Offers Items and Experiences for Seniors
As people age, their interests and needs change. While some seniors are content to stay at home, others are looking for ways to stay active and engaged. DealDash offers a wide range of products and experiences that are perfect for seniors. From fitness tracker wristbands to travel vouchers, DealDash has something for everyone. And with free shipping on all orders, seniors can enjoy their new gifts without having to leave the comfort of their homes. Whether they're looking to explore the world or just stay healthy and active, DealDash has something for every senior.
DealDash is now offering some absolutely amazing experiences such as vouchers for Royal Caribbean to put towards your next cruise, or for the more adventurous senior, a romantic glamping experience. If your favorite senior is more of a homebody, a beautiful duvet cover set or a beautiful painting might be more their speed.
Royal Caribbean has a new ship coming out in 2024 called Icon of the Seas. Wouldn't you love to sail on a brand-new ship?
Thanks for Reading
Thank you for reading! The tips in this article should help you find the perfect gift for your loved one this holiday season. Whether you decide to go with a practical or experiential gift, be sure to put thought into it and make sure the recipient will appreciate it. And most importantly, have a great day, and happy bidding everyone!
This sponsored DealDash blog article was written by Dawn E, a mother of 3 who loves DealDash. Dawn was compensated for writing this article. Check out Dawn and her cats on Instagram! This blog is written by real DealDash customers. The opinions and advice shared here represent our customers' views and not those of the company.