DealDash Organizes For The Holidays
The holidays are coming. It's time to create organized spaces in the home. Here are some tips from DealDash to help.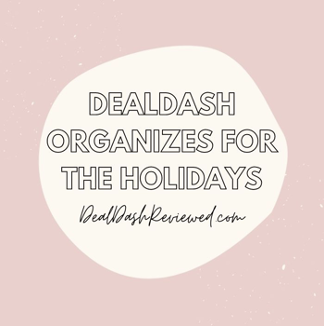 Quick question – which are some of the busiest rooms in your house when it comes to holidays? My guess is that it would be the living room and kitchen. You know, it takes more than simply putting things in the right place to keep things organized. Here are some tips to create organized spaces in the home for the holidays, from DealDash.
Organized Space #1 – The Kitchen
To start with, your guests might not be spending a ton if time in your kitchen, but it's still important to keep this an organized space. When everything is organized you will be able to have more time with your family and spend less time in the kitchen.
An easy way to create an organized space in the kitchen is to give everything a "home" and be sure to return things back after using them. If you have a pantry, great! You will be able to store more things. However, if you don't have a pantry you can still keep everything neat and organized in your cabinets. Simply figure out what things you use the most and group them together.
Another way to keep your kitchen organized is to plan your holiday meals. You can create your meal plan for each day around the holidays, and shop early. You will know exactly what you have for dinner and have what you need to prepare it. This way you aren't in a rush and will be able to keep all of your organization work neat and clean.
No matter if you live in a big house or a small apartment, you can have a clean and organized kitchen. The Apartment Therapy website has an excellent article with over 50 ideas on kitchen cabinet organization. If you need some inspiration, you should take a peek.
Organized Space #2 – The Living Room, DealDash Style!
The next place that you will want to create an organized space for is the living room. This room will probably be the room that you spend the most time together in as a family celebrating the holidays. Before you start organizing, you will want to make sure that everything is clean – dusted, vacuumed, and put away. After this, you can begin making your organized space. You can do this with some help from DealDash!
Cleaning and organizing doesn't have to be a big drain on your time and wallet! You can have a beautiful living room in time for the holidays with a few small touches from DealDash. Got a dusty old box of photographs under the coffee table? Pick your favorites and display family photos in these frames from DealDash. If you have more coffee table books than space, why not organize them on a shelf with these whimsical bookends? No matter if you will have family visit in person or over a Zoom call, they will be impressed when they see your new and improved living room!
Thanks for Reading
These are just a few tips to help create organized spaces for the holidays. Take the time to organize your kitchen and living room ahead of the holidays, and you will be able to relax when they arrive.
Thanks so much for reading this article on creating organized spaces for the holidays. If you need cleaning or organizational items, DealDash can help. You will find shelving, baskets, and home and kitchen equipment. Visit DealDash now to see how much you can save. Have a great time and happy bidding everyone! 
This sponsored DealDash blog article was written by Dawn E, a mother of 3 who loves DealDash. Dawn was compensated for writing this article. Check out Dawn and her cats on Instagram! This blog is written by real DealDash customers. The opinions and advice shared here represent our customers' views and not those of the company.