DealDash Perfects Being a Thanksgiving Host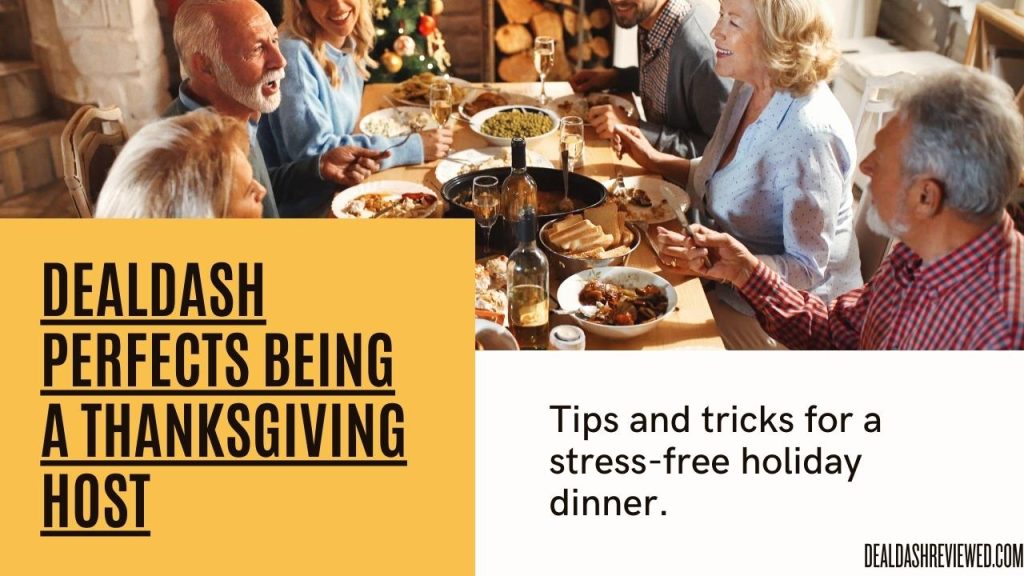 Not everyone is cut out to be the family Thanksgiving host. Are you up to the challenge? Be the hero of Thanksgiving with these ideas.
Thanksgiving is a time of warmth, gratitude, and sharing delicious meals with family and friends. However, hosting this significant event can sometimes feel like a mammoth task, but fret not! With thoughtful preparation and a sprinkle of creativity, you can ensure that your guests leave with full bellies and happy thoughts of family. Here are some tips on how to be a splendid host this Thanksgiving and make your gathering a memorable one. Read on for some hosting suggestions from DealDash.
Creating a Warm Welcome
Start by setting a festive atmosphere that greets your guests as they arrive. Consider decorating your entrance with autumn-inspired decorations like pumpkins, fall leaves, or even a beautiful wreath. A personal touch, such as a welcome note at their spot at the table, or even a small gift, can make your guests feel special. Thanksgiving is my absolute favorite holiday, and making guests feel comfortable is the highlight of hosting this wonderful holiday.
If you are a "shoes off" in the house family, be sure to provide a basket near the door that has slippers and/or shoe covers. Alternately, consider filling the basket with pairs of (new, of course!) socks that have Thanksgiving/fall designs and colors. Add a little note letting your guests know that they can pick their favorite pair to put on and take home with them.
Setting a Stunning Thanksgiving Table
The dining table is the heart of the Thanksgiving celebration. Adorn it with a mix of traditional and unique touches. Use elegant tableware and incorporate decorative items such as candles, fresh flowers, or even pine cones and berries for a natural feel. Ensure that the seating arrangement encourages conversation and comfort throughout the meal.
If your family has at least a few kids, make sure that you set up a table just for them. Be sure to include a basket that has small activities that will keep the kids busy (and quiet!). Add things like coloring/activity books with crayons, simple games like Old Maid or Go Fish cards, and (if you're brave) Play-Doh or slime. Check out the Parade Magazine site for an article with 50 Thanksgiving Activities for kids if you'd like more ideas.
Crafting a Delectable Thanksgiving Menu
Your Thanksgiving menu should be a delightful blend of traditional favorites and your unique creations. While turkey might be the star of the show, consider including a variety of side dishes, desserts, and beverages to cater to different preferences. Don't forget to ask your guests in advance about any dietary restrictions or allergies to ensure everyone can enjoy the feast.
Engaging in Meaningful Conversations
Be mindful of steering conversations in a direction that fosters warmth and inclusivity. Encourage guests to share what they are thankful for or discuss common interests. Your active participation and thoughtful questions can keep conversations flowing and make everyone feel included and valued. For everyone's comfort, try to steer conversations away from "hot button" topics such as politics.
DealDash Has Kitchen Supplies and Small Appliances
Finally, if you're hosting Thanksgiving this year, you're going to need to cook a large variety of foods for your family. Cooking a variety of foods calls for a wide variety of kitchen supplies and small appliances. DealDash has all of the kitchen items you need. You will find typical things like stand mixers and blenders, but you will also find air fryers, insulated wine glasses, and other unique items.
Thanks for Reading
Being a gracious host is all about creating an environment where your guests feel cherished and comfortable. With careful planning, a dash of creativity, and a generous sprinkle of love, you can ensure that this Thanksgiving is not just another dinner, but a fond memory in the hearts of your guests. Embrace the spirit of Thanksgiving by celebrating the togetherness and gratitude that fills the air during this heartwarming holiday. When you're ready to begin menu planning, be sure to visit DealDash to find the kitchen items you need. Thanks so much for reading, and happy bidding everyone!
This sponsored DealDash blog article was written by Dawn E, a mother of 3 who loves DealDash. Dawn was compensated for writing this article. Check out Dawn and her cats on Instagram! This blog is written by real DealDash customers. The opinions and advice shared here represent our customers' views and not those of the company.