DealDashing Into Fall Skincare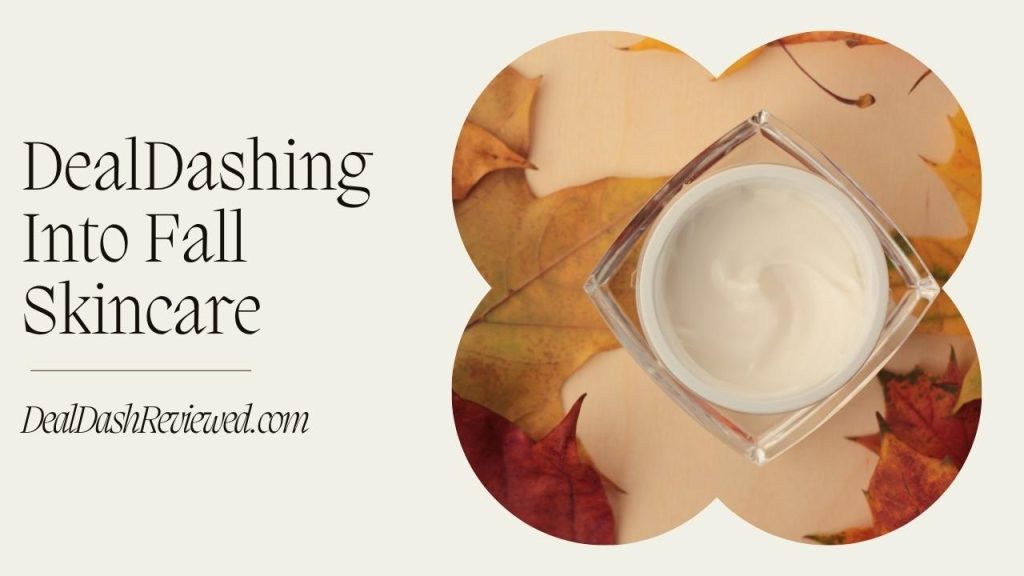 As the weather changes, so should your skincare routine. Now is a great time to go full speed ahead into your fall skincare routine.
As the leaves change colors and the air grows crisp, it's a signal not only for cozy sweaters and pumpkin spice lattes but also for a shift in our skincare routine. Fall ushers in cooler temperatures, lower humidity levels, and harsher winds, which can challenge our skin's resilience. Embracing a fall-specific regimen ensures that your skin remains soft, supple, and radiant even as the environment around you transforms. Read this article from DealDash for some excellent tips for transforming your skincare routine into something more substantial for cooler temperatures.
Deep Hydration is Key
Summer's lightweight lotions served us well, but fall demands more intense moisturization. Cooler air holds less moisture, which means it can sap hydration from our skin. Investing in a richer moisturizer, possibly one containing hyaluronic acid or ceramides, can help maintain a plump and dewy complexion. If your skin leans towards dryness, consider layering a hydrating serum under your moisturizer for added benefit. Do remember, though, that a serum isn't meant to take the place of your moisturizer. Be sure to layer the serum and then the moisturizer.
Gently Exfoliate, then Nourish with Oils
Exfoliation sheds away dead skin cells that might have accumulated over the summer, paving the way for fresh, vibrant skin. However, be cautious. Over-exfoliation can strip the skin's protective barrier, leaving it vulnerable to environmental stressors. Opt for a gentle exfoliant, like a lactic acid or enzymatic peel, and use it 1-2 times a week. If you find your skin feeling a little irritated, reduce usage to once per week.
If you haven't introduced facial oils into your regimen yet, fall is a perfect time. Oils like rosehip, jojoba, and argan not only provide deep hydration but also contain essential fatty acids that fortify the skin's barrier. Just a few drops pressed into the skin post-moisturization can lock in hydration and offer a radiant glow.
Sunscreen Isn't Just for Summer
Despite the receding sunlight and cooler temperatures, UV rays are ever-present. These invisible rays can accelerate skin aging and increase the risk of skin cancer. Daily application of broad-spectrum SPF remains essential. Look for formulations that also include moisturizing ingredients to serve a dual purpose. Optimally, find a daytime moisturizer that has at least a 20-30+ SPF for the fall. Of course, if you will be spending a lot of time outdoors, then use at least 50 SPF.
Take Care of the Lips and Hands
These often neglected areas can suffer the most during the cooler months. Incorporate a nourishing lip balm into your daily routine and consider sleeping with a thicker lip mask. For hands, invest in a hand cream containing shea butter or glycerin. Regular application, especially after hand washing, can keep them soft and free from cracks. These items won't break the budget, either. Personally, I have found that Vaseline is great for severely chapped lips, and Aquaphor is great for hands. These are brands that you can get for less than $10 and will last you all through the fall and winter.
Embrace DIY Masks
Fall produce isn't just for pies and stews. Ingredients like pumpkin, honey, and yogurt are packed with skin-loving nutrients. Pumpkin, for instance, is a natural source of enzymes and AHAs which can brighten and smooth the skin. Consider whipping up a DIY mask for a relaxing and rejuvenating weekend treat.
DealDash Has Skincare and Beauty Items
Now that you have lots of ideas on how to improve your skincare regimen for the fall, it's time to get some new products. If you're ready to get new skincare items, I have great news for you. DealDash has excellent skincare, beauty, and spa items up for bid. On DealDash, you will find skincare items like a detoxifying charcoal mask set and sheet masks. Additionally, you will also find makeup such as lippies and cheek stains, and even perfume and cologne. No matter what sort of beauty items you are seeking, you will find them on DealDash.
Thanks for Reading
As with most things in life, adaptation is key. The transition from summer to fall is a beautiful one, and with a little attention and care, your skin can reflect that beauty. Remember to listen to your skin's needs, indulge in regular self-care, and enjoy the serene pleasures of the season. When you are ready to stock up your skincare and beauty drawer for the season, make DealDash your first stop for sheet masks and makeup. Thanks so much for reading, and happy bidding everyone!
This sponsored DealDash blog article was written by Dawn E, a mother of 3 who loves DealDash. Dawn was compensated for writing this article. Check out Dawn and her cats on Instagram! This blog is written by real DealDash customers. The opinions and advice shared here represent our customers' views and not those of the company.