DealDash's Best Fall Drinks to Sip on This Season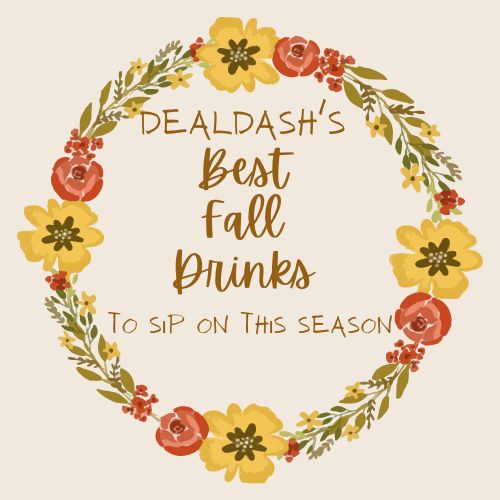 Fall drinks are one of my favorite parts of the season. Personally, I love anything pumpkin. What's your favorite?
As the leaves start to change color and the weather starts to get a little cooler, that means one thing: it's officially Fall! And with Fall comes all sorts of delicious drinks, like pumpkin spice lattes and apple cider. In this blog post, we'll look at some of the best Fall drinks you need to try this season. So pull up a chair, curl up in a blanket, and let's explore some Fall-centric drinks with DealDash.
Fall Drink – Pumpkin Spice Latte
First up, one of the most popular Fall drinks has to be the pumpkin spice latte. This delicious drink is made with espresso, milk, and a whole lot of pumpkin spice. If you're looking for something a little sweeter, you can always add some whipped cream on top. Yum!
The website Inspired Taste has a very simple recipe for a yummy pumpkin spice latte that I will put below. Also, check out their site for lots of other yummy recipes.
Ingredients
2 cups milk (dairy or non-dairy)
2 tablespoons pumpkin puree, or more to taste
1 to 3 tablespoons sugar, depending on how sweet you like it
1 tablespoon vanilla extract
1/2 teaspoon pumpkin pie spice, plus more for serving
1/2 cup strong hot coffee
Whipped cream, for serving
Directions
Add milk, pumpkin puree, and sugar to a saucepan over medium heat. Heat until hot, but do not boil. Remove the saucepan from the heat and whisk in the vanilla, pumpkin pie spice, and coffee.
Divide the mixture between two mugs. Top with whipped cream and a sprinkle of pumpkin pie spice.
Fall Drink – Apple Cider
Next, another great Fall drink is apple cider. This refreshing beverage is perfect for chilly days, and it's super easy to make at home. Just throw some apples in a blender with some water and sugar, and voila – you've got homemade apple cider!
Fall Drink – Hot Chocolate
Finally, we can't forget about hot chocolate. This rich and creamy drink is a great way to warm up on a cold day. You can even add some marshmallows or whipped cream on top for an extra-special treat. Grab a box of packs of hot chocolate, or even try homemade, it's up to you.
DealDash Has Items to Make Fall Drinks
Whether you're looking for a new blender to make apple cider or a set of mugs for hot chocolate, DealDash has got you covered. Be sure to check out the Kitchen and Dining category for all sorts of great Fall items. And don't forget – with DealDash, you will always get free shipping on your order!
Thanks for Reading
So there you have it – three of the best Fall drinks that you need to try this season. Which one is your favorite? Let us know in the comments below. And don't forget to check out DealDash for all of your Fall needs such as electric kettles, tea sets, and other small appliances. Thanks for reading, and happy bidding everyone.
This sponsored DealDash blog article was written by Dawn E, a mother of 3 who loves DealDash. Dawn was compensated for writing this article. Check out Dawn and her cats on Instagram! This blog is written by real DealDash customers. The opinions and advice shared here represent our customers' views and not those of the company.