DealDash's Black Friday Tips: Find the Best Deals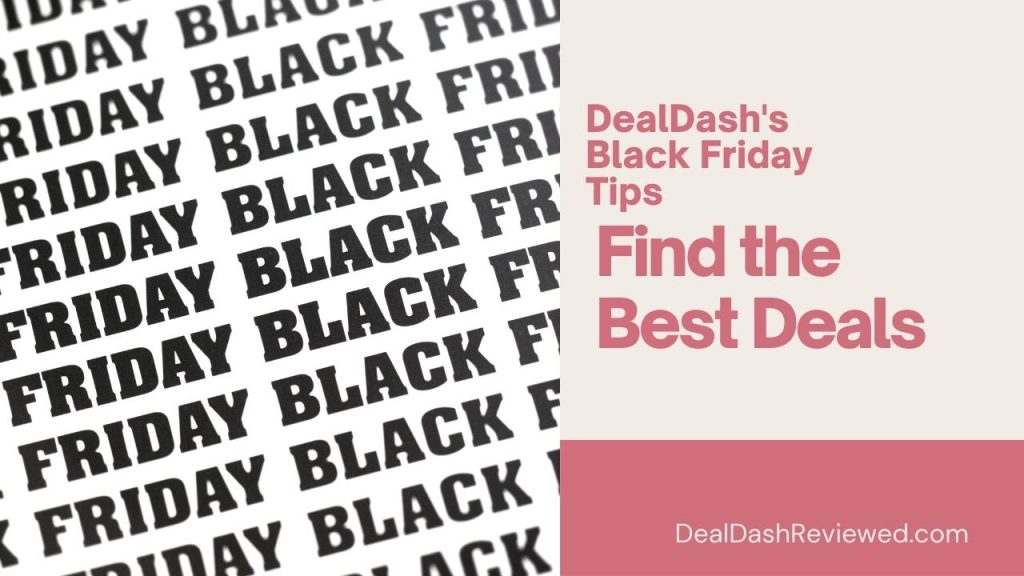 Another Black Friday is almost here, and I'm ready to shop! Here are some tips that I have picked up over the years I would like to share.
As the holiday season approaches, shoppers gear up for two of the biggest sale events of the year: Black Friday and Cyber Monday. While both of these fun days promise great deals, they each have distinct advantages. This depends on what you're shopping for, of course! Understanding the nuances of these shopping holidays can help you snag the best deals. Read on for some super shopping tips and tricks from DealDash.
Black Friday: The Traditional Shopping Extravaganza
Black Friday, falling on the day after Thanksgiving, is a time-honored tradition of retail frenzy. Originally an in-store event, it has expanded to include online deals. However, the best bargains are often still found physically in stores. And oftentimes, there are very limited numbers of the best items.
Electronics and Big-Ticket Items: Black Friday is renowned for substantial discounts on electronics like TVs, laptops, gaming consoles, and smartphones. It's also the day to look for significant savings on appliances and other big-ticket items.
In-Store Doorbusters: Many retailers offer doorbuster deals with dramatic discounts on specific items. These are typically available in limited quantities and are designed to draw shoppers into the store.
Clothing and Beauty Products: Clothing retailers often offer store-wide discounts, making it a great time to refresh your wardrobe. Beauty products, from high-end brands to drugstore lines, see significant markdowns.
Toys and Games: Big box stores always have tons of deals on toys for kids of all ages, from baby to teen. No matter what your kid, grandkid, or nibling is hoping for this year, you are sure to find a great deal on toys on Black Friday.
Cyber Monday: The Online Shopping Haven
Cyber Monday takes place on the Monday following Black Friday and is exclusively an online event. It's ideal for those who prefer to avoid the crowds and shop from the comfort of their home.
Tech Deals Continue: While Black Friday is king for tech deals, Cyber Monday often features similar discounts, especially for smaller electronics like tablets, smartphones, and smart home devices.
Online-Only Retailers and Niche Products: Online giants like Amazon and niche e-commerce sites often save their best deals for Cyber Monday. This day is also great for finding deals on subscription services, digital goods, and online courses.
Travel and Experiential Deals: Cyber Monday is an excellent time for discounts on travel bookings, including flights, hotels, and vacation packages. Cyber Monday is an excellent day to book a cruise – you can sometimes find discounts of up to 50%, in addition to getting extra perks such as on-board credits, free wi-fi packages, drink packages, and even specialty dining.
DealDash is Open 24/7 for Online Shopping
No matter which of these days (or both!) you choose to shop during this season, be sure that you always check DealDash first. You will find items that you would expect – and some fun surprise items that you wouldn't have even thought to search for! I browsed around for some fun surprise items, and here's what I found up for auction right now:
Adult Compound Bow
Seashell and Doughnut Christmas Ornaments
Fluffy Fur Hat
Outdoor Cedar Barrel Sauna
727 (Yes, seven hundred and twenty-seven) Sonic Facial Cleansers
Now, isn't that a fun assortment of interesting items? You never know what you're going to find when you browse on DealDash!
Thanks for Reading
By understanding the unique aspects of Black Friday and Cyber Monday, you can strategize to find the best deals for your shopping list. As a big shopper, I utilize both Black Friday and Cyber Monday for finding the best deals on my holiday shopping. No matter which option you choose, using these tips will help you save both money and time this year. And if you're not sure what to get for your friends or family this holiday season, take a look around DealDash and find fun surprises like a fluffy fur hat or even an outdoor sauna. Thanks so much for reading, and happy bidding everyone!
This sponsored DealDash blog article was written by Dawn E, a mother of 3 who loves DealDash. Dawn was compensated for writing this article. Check out Dawn and her cats on Instagram! This blog is written by real DealDash customers. The opinions and advice shared here represent our customers' views and not those of the company.