DealDash Frugal Grocery Trip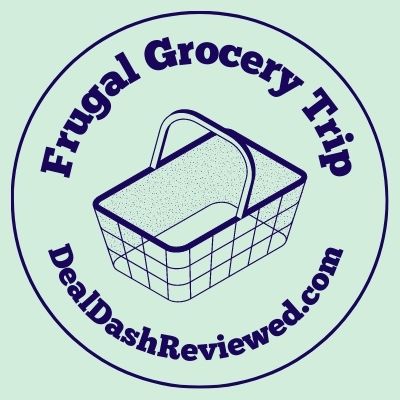 It seems like groceries are getting more and more expensive every shopping trip. However, with these tips from DealDash, you will be able to have a frugal grocery trip.
After housing, what is the biggest item on your weekly budget? For many families, especially larger ones, groceries are definitely near the top of the list. DealDash is here with a few tips to save lots of extra money on groceries. Read this new article and learn how to have a frugal grocery trip.
Have a Monthly Frugal Grocery Trip
To begin with, you will be able to save a lot of money if instead of shopping weekly or bi-weekly you change it to monthly. This way, you can go once a month and buy in bulk instead of a little bit each week. Not only is buying food in bulk usually cheaper, but you will also be able to take advantage of some of the better coupons that say you must buy two of the item to get the discount. Additionally, depending on the store, you can sometimes use more than one coupon if you are buying more than one of the same item. For instance, you might have a coupon that says "$3 off two jars of pasta sauce". So you buy two jars of pasta sauce and use this coupon, however, you can typically use another coupon on this same transaction, for example, a ".50 off one jar" of the same pasta sauce.
Another reason why doing one monthly frugal grocery trip can be cheaper is the fact that most people almost always add a few extra things to the cart that aren't on the shopping list. If you add 2 extra items for each weekly trip, that's an extra 8 items per month. If you are shopping monthly, then you will have an easier time sticking to your list – even if you add 3 or 4 extra things, it still won't add up to the weekly extras. Speaking of lists…
Make a Frugal Grocery Trip List
Next, you absolutely must make a list before you do your monthly frugal shopping trip. If you don't make a list, you will end up spending way more money than you would if you made a list beforehand. I actually am an advocate of having two shopping lists.
You should have one list that has the pantry, fridge, and freezer items that you always buy each month. These are things that are "staples" for you, such as milk, bread, eggs, etc. The second list is for things that you think of during the month that you would like to purchase. These are things for events such as birthday cake ingredients, things to do a "pizza night", Christmas cookie ingredients, etc. You can also put items on this list that are on sale that week, as well as the items that you have saved coupons to use. If you have multiple adults or older kids who would like to add to the frugal shopping trip list, you should put the list where everyone has easy access, such as on a whiteboard, next to the calendar, or even make a Google Spreadsheet to share with the family. You can even download a free app such as Out of Milk, or an app for a grocery store that is near you such as Shaw's.
Get Kitchen Items on DealDash
Finally, it's not just food that can get expensive, but the kitchen items you need to make the meals! So don't just have a frugal grocery trip, save money by getting your kitchen items on DealDash. You will be delighted to know that you will find knife sets, baking pans, and blenders up for auction almost daily. So skip those fancy kitchen stores, and check out the great items in the Kitchen and Dining category.
Thanks for Reading
Thanks so much for reading this article on taking a frugal grocery trip. This is really just the beginning of the ways you can be frugal with your grocery shopping. Follow these suggestions and you will be saving money at the grocery store in no time flat.
DealDash has kitchen items. You will find small appliances and kitchen cooking and decor auctions. Visit now to see how much you can save. Have a great time and happy bidding everyone!
This sponsored DealDash blog article was written by Dawn E, a mother of 3 who loves DealDash. Dawn was compensated for writing this article. Check out Dawn and her cats on Instagram! This blog is written by real DealDash customers. The opinions and advice shared here represent our customers' views and not those of the company.