DealDash Takes Your Kids Outside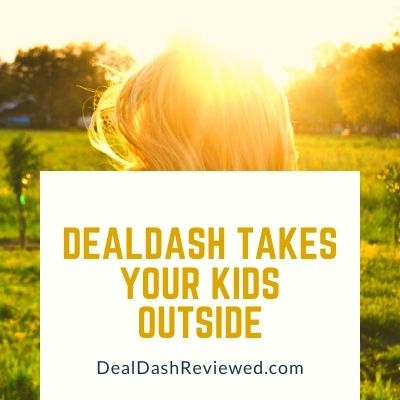 Great news, everyone! The weather is getting beautiful and is perfect for taking the kids outside. Get some fresh air and have fun with these ideas from DealDash.
Now that spring is in full swing, parents and children alike are rejoicing that they can get some outdoor time in the schedule. If you have been working at home while homeschooling your kids all winter, you are all probably more than ready to let them out to play. Here are some suggestions from DealDash on ways to get your kids outside and having fun.
Getting Kids Outside for Sports with DealDash
Firstly, a great thing about getting your kids outside is a great way to get them to practice sports. If your kids haven't been able to go to school for gym, and their local sports have been canceled then going outside for sports is a great plan. You can have them play a typical sport like basketball in the driveway, or soccer in the backyard – or you can make up your own sports-like competitions with badminton or seeing who can hula hoop or jump rope the longest.
Of course, you need to have the right supplies for your kids to have fun with sports. This is where DealDash can help. The Hobbies, Toys, Outdoors, and Games category is the perfect place to begin your search. You will find things such as footballs, basketballs, and even lawn games such as croquet.
Kids Outside Can Learn Fun Skills
Additionally, Being outdoors is a great way to learn new fun and interesting skills. It's a fact – being outdoors can help your kids gain useful skills such as how to plant flowers and veggies, take care of their toys by putting them away so they don't get damaged in the rain, and how to co-exist with nature.
Learning to appreciate the outdoors while they are still children will help them grow into being a helpful adult when it comes to maintaining the environment. It can be very beneficial for them when they are older to have the knowledge to maintain a garden and grow their own veggies.
There is a free online magazine called Outdoor Families that has tons of suggestions on how to help your kids learn skills outside. They even have some excellent STEM activities for kids of different ages.
Thanks for Reading
Thank you for taking the time today to read this new DealDash article on getting your kids outside. I hope it gave you some suggestions on helping your kids enjoy their time outdoors. It's beautiful out, and they will love to be in the fresh air and sunshine after being in the house all winter.
If you are shopping for sports equipment and outdoor toys and games check DealDash first. You will also find camping and fitness items. Have a great time on DealDash everyone, and happy bidding!
This sponsored DealDash blog article was written by Dawn E, a mother of 3 who loves DealDash. Dawn was compensated for writing this article. Check out Dawn and her cats on Instagram! This blog is written by real DealDash customers. The opinions and advice shared here represent our customers' views and not those of the company.