Sunflowers are awesome! They are so friendly and cheerful-looking as well as delicious. Here are some tips on how to grow them from DealDash.
Do you love sunflowers? They look great in the garden, and then when they start drooping then you can cut them down and harvest the seeds. Sunflowers range in height between 2 and 15 feet tall depending on the type of sunflower. Therefore they can grow in just about any size of garden from small to a full yard. Here are some tips from DealDash to get you started on your sunflowers.
What Type of Sunflower?
There are so many different varieties of sunflower. Here are a few of the top types that you might enjoy growing in your garden:
Best Double Bloomer: Giant Sungold
Multicolored: Strawberry Blonde
Best Mammoth: Mammoth Russian
Best Light Bloomer: Italian White
Dwarf Variety: Little Becka
Best Dark Bloomer: Moulin Rouge
Award Winner: Soraya
Best for Pollinators: Lemon Queen
Where Will You Grow Them?
Do you live in the right area for sunflowers? I hope so! Sunflowers thrive in warm and hot climates in areas with full sunshine. Climates with long hot summers are perfect for growing sunflowers. The hint is in the name, of course SUNflowers enjoy full sunlight!
When your little sunflower plants start growing, be sure to shield their stems from the wind. Plant sunflower seeds along a fence, the side of a house, or stake them. If you live in a windy area or your stalks lack strength, consider staking the plants with wood or bamboo stakes to support the weight of the plant.
What Can Hurt Your Sunflowers?
Sunflowers are extremely resilient, luckily! However, something besides the wind that can harm them is flooded soil. Your sunflower plants need to have proper drainage in the soil. If your soil doesn't drain well, you can buy or build a planter box.
How Exactly Should You Plant the Seeds?
Firstly, dig holes that are 1 inch deep. These holes should be placed fairly far apart. For smaller varieties, they can be placed about 6 inches apart. For the larger varieties, put them 18 inches apart. Sunflowers are huge and need a lot of space to grow to look their best.
How Much Water Do These Things Need?
Sunflowers love sun and they don't need quite as much water as other plants such as a tomato plant. Luckily, sunflowers only need to be watered once or twice a week. Sunflowers have deep roots and prefer infrequent, heavy watering to frequent, shallow watering. This is good news for you, because you can just pick one or two days per week to water your plants and you'll have less chance of forgetting to water them. Of course, you'll need to adjust your watering routine on particularly hot or rainy weeks. Your sunflowers should bloom in mid to late summer, and you can enjoy them for a while before you cut them down to eat.
Are You Ready to Chow Down on Seeds?
Now it's time to harvest the seeds. When you're ready to snack on sunflower seeds, cut the flower heads off when they begin to droop. If they don't droop, then the time to cut them off is when the back of the head begins to turn yellow. After you've cut the heads off, hang them upside down by the stem in a dry, and cover them with a paper bag to catch seeds as they fall out. After that, they can be eaten or roasted and eaten. Bon Appetite!
Thanks for Reading
Finally, thanks so much for reading this new DealDash article on sunflowers. Make sure that you get those seeds planted! If you need anything for your lawn or garden check DealDash. D
Do you need any supplies to plant your sunflowers? If you need anything for your lawn or garden check DealDash. DealDash has many different items for indoors and out. Visit DealDash now to see how much you can save. Don't forget to tell all of your friends about DealDash! Good luck and happy bidding everyone!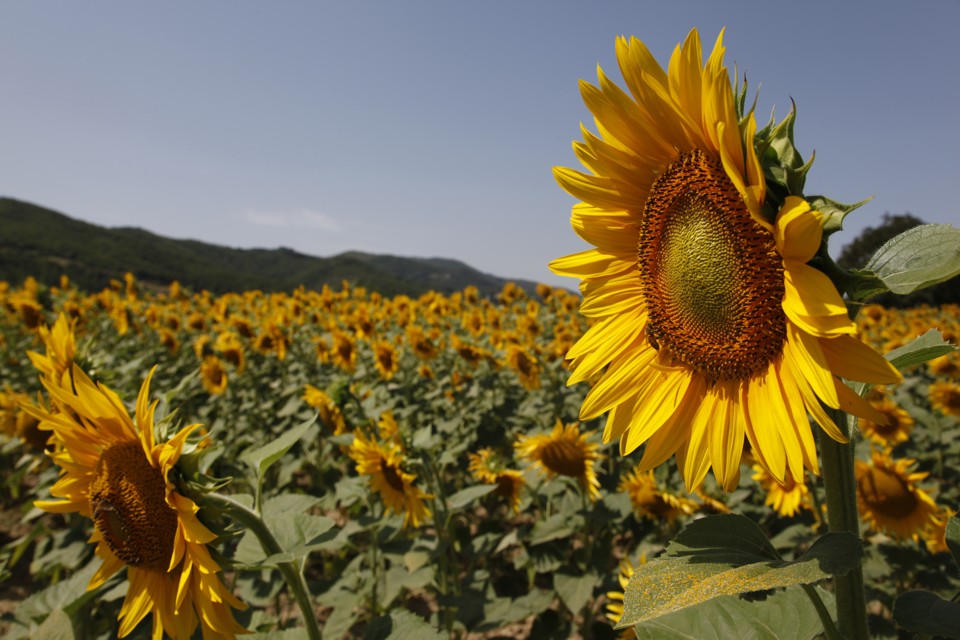 This blog was written by Dawn E, a mother of 3 who loves DealDash. Read even more at DealDashBlog.com, DealDashTips.com, or on her own blog, DawnBlogtopus.