Ohh Canada – DealDash Style!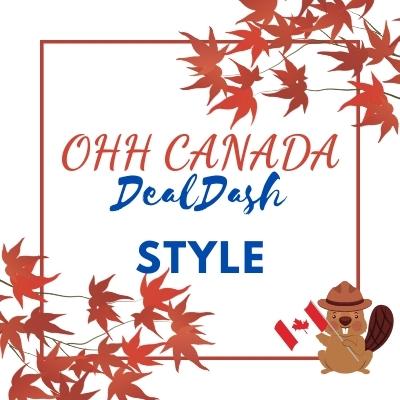 Have you noticed an influx of new bidders lately and wondered what was going on? Wonder no more, let me introduce you to our friends in the north.
You might not have noticed yet, but DealDash has been a favorite among Canadians for months now. Hundreds of successful auctions have been won by bidders from across the country, beginning in January 2022. However, what does this mean to you, the American bidder? Fret not, my fellow Americans, sometimes change can be good! Read on for some information about this new development.
Why Canada? Why Now?
Just for starters, you might be wondering, "Why Canada?" It's simple! Not only is Canada located very geographically close to us, but they are also quick and easy to ship to. By adding Canada to the countries that DealDash serves, we
can add lots of new bidders to the fun, and even still provide them with FREE shipping. However, please do note that Quebec is excluded.
As for "Why Now?", it's a great time to be a DealDash bidder! DealDash has been in business for over 13 years now and has over 20 million registered bidders. It just didn't seem fair to not let our neighbors to the north share in the fun and excitement of a great auction.
Living in the northeast, I have had the privilege of being able to visit Canada a few times in my life. However, if you haven't yet had the pleasure of becoming an expert on Canada, I can help! This article from Encyclopedia Brittanica can help teach you the Canadian basics.
More Competition? I'm Not So Sure About This…
Finally, you might not be too happy at first about even more bidders vying after an auction win. However, don't worry! DealDash knows how important it is to keep the bidders happy and will take all necessary steps in order for them not to be stressed out. That's why if there are more bidders, then guaranteed you'll see an increase in auctions. Speaking of, haven't you noticed that there are way more auctions happening every day? The easiest way for me to tell is to see how many "No New Bidders" banners you see when you first sign in to the homepage. There used to be just a handful or so, but now you have to go about halfway down page 2 of the auctions just to find the fresh auctions. Now that's progress!
Additionally, you will always find information about average sales prices on items won by each bidder, as well as how many bids were used in each winning auction. This way everything is clear, transparent, and fair for everyone.
Thanks for Reading
Thanks so much for reading, and I hope that you have a better understanding of the new happenings around DealDash. We strive to be fair to everyone, and as we all know, information is power.
Why shop at places that don't have the best deals? Stop by DealDash and you'll be able to find everything from home decor items, cars, and other cool surprises, all while winning some amazing goodies! You never know what might show up next in this month's auctions. Have fun, and happy bidding everyone!
This sponsored DealDash blog article was written by Dawn E, a mother of 3 who loves DealDash. Dawn was compensated for writing this article. Check out Dawn and her cats on Instagram! This blog is written by real DealDash customers. The opinions and advice shared here represent our customers' views and not those of the company.