DealDash Coffee Adventures: Coffees and Makers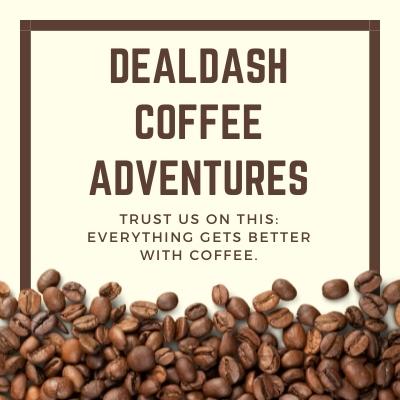 Coffee is the quintessential morning beverage. Let's take a look at some different types of coffees and coffee makers.
Do you love coffee? I sure do! In this blog post, we're going to explore the different types of coffee and coffee makers. There are so many different options on the market these days, that it can be hard to decide which one is right for you. We'll start by discussing the different types of coffee beans and then move on to the different types of coffee makers. Stay tuned – there's a lot of information in store! Read on for some helpful advice from this coffee-loving DealDash bidder.
Coffee Adventures: Beans
Let's start with beans – Arabica vs. Robusta Beans: The two most common types of coffee beans are Arabica and Robusta. Arabica beans are considered to be the higher quality bean, while Robusta beans are known for their
stronger flavor. If you're a beginner, I would recommend starting with Arabica beans. They have a more delicate flavor that can be enjoyed by coffee aficionados and beginners alike.
If you're a big coffee fan, you will want to learn more about coffee beans. Check out the Coffee Affection site and you will be on your way to becoming an expert.
Coffee Adventures: Brewing Methods
Next up, brewing! There are many different ways to brew coffee – it all depends on your preferences. Some people prefer to use a French press, while others enjoy using an espresso maker. If you're not sure which brewing method is right for you, I would suggest starting with a drip coffee maker. They're relatively affordable and easy to use, and they produce a delicious cup of coffee.
Coffee Adventures: Makers (Check DealDash for your next one!)
Finally, I would like to explore different Coffee Makers. Now that we've talked about the different types of coffee beans and brewing methods, let's move on to coffee makers. As I mentioned before, there are many different options on the market these days, so it can be hard to decide which one is right for you. Here are a few things to keep in mind when choosing a coffee maker:
-Price: Coffee makers range in price from around $20 to thousands. It's important to find one that fits your budget without sacrificing quality.
-Capacity: Some coffee makers can only make a single cup of coffee at a time, while others can make up to 12 cups.
-Features: Some coffee makers come with additional features, such as timers, grinders, and thermal carafes. If you're looking for a coffee maker with lots of bells and whistles, be sure to read the reviews carefully to make sure the features are worth the extra cost.
DealDash has a huge variety of different coffee makers. You can find the most simple design such as a pour-over carafe with filter, typical drip machines, and even an ultra-elite smart machine.
Thanks for Reading
So there you have it – our guide to coffee beans, brewing methods, and coffee makers. I hope this information was helpful and that you're now armed with all the knowledge you need to find the perfect coffee for your taste buds. Stay tuned for more of my Coffee Adventures – I'm always on the lookout for new and interesting coffee roasts. Thanks for reading and happy bidding everyone.
This sponsored DealDash blog article was written by Dawn E, a mother of 3 who loves DealDash. Dawn was compensated for writing this article. Check out Dawn and her cats on Instagram! This blog is written by real DealDash customers. The opinions and advice shared here represent our customers' views and not those of the company.