DealDash Easy Easter Baskets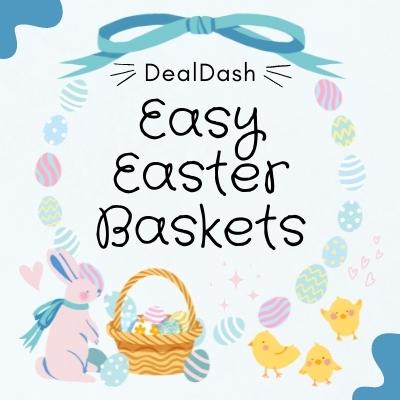 Welcoming April means that Easter is getting closer. There's still time to make the perfect Easter basket for everyone in your life.
Now's the perfect time to gather items for your loved ones' baskets! Whether you're giving a traditional children-themed basket or one filled with goodies just tailored towards adults and seniors, DealDash has everything. Check out these creative ideas if they are looking forward to being surprised at how thoughtful it will feel when everyone has gathered their own personal food favorites from DealDash this year. Read this article for some excellent ideas, then get started!
Rover and Mittens Join the Fun
Just to begin, let's get the easiest basket done first. You'll never have trouble finding gifts for your favorite furry (or feathered) friend when you shop on DealDash. You will find everything you need – including items to keep them clean and happy. You can find a pet bed, kitty tree, or food bowl in assorted colors that will fit right in with your home decor.
When you want to make your furry friend an Easter basket, there's no rule saying that you need to use an actual basket. You could just as easily use a pet bed or tent from DealDash and put all of their new treats and goodies inside. This way you don't need to buy an extra basket that will just go to waste, and your pet will get to enjoy a new bed, too.
Want to attempt making your much-loved pet some treats at home? The Dog-Eared site has some great recipes. These recipes are pet safe and easy to make at home. Check them out.
Grandma and Grampa Love Easter Baskets, too

Next, don't forget Grandma and Grandpa when you are making Easter baskets this year. Old folks are usually easy to shop for. Most of them tend to enjoy consumables like cookies or fancy tea. However, sometimes you come across a senior who is hard to shop for. We all know that buying a gift can be difficult, especially if the person you're shopping for has specific needs. This might sound a little unconventional, but imagine how much easier your life would become by simply asking them exactly what they would like. By asking your favorite senior exactly what they would like in their basket it can cut down on a lot of stress. You never know, they might surprise you and ask for something that you would have never thought to get them. Then, you can tuck this knowledge away and pull it back out when it comes to the next gift-giving holiday.
Popular Gifts for Kid's Easter Baskets
Finally, when most people think about making Easter Baskets their mind usually goes to toys for children. Easter is a time for candy, small toys, and, of course, family! For kids, Easter baskets are a fun way to collect all of their holiday goodies in one place. But with so many options on the market, it can be tough to decide which basket-fillers are right for your child. If you're looking for Easter basket ideas for kids, here are a few things to keep in mind.
First, consider the age of your child. Younger children will likely be thrilled with any type of basket, but older kids may have specific preferences. For example, tweens and teens may prefer a basket that's more stylish and sophisticated than cutesy and childish.
Next, think about what type of items your child likes. Here are a few ideas of things that I have noticed my kids (6 & 10) enjoying lately:
Putty – try some that have fun scents like cotton candy, fruit, or chocolate
Pokemon cards – yes, 20 years later, Pokemon is still popular!
Frog-themed items – For some reason, frogs are "in" now
Squishmallows
Blind bags with small toys inside
Thanks for Reading
Planning and putting together an Easter basket might sound like a daunting task. However, use these suggestions to make it easy. Thanks for reading the article, have fun during this holiday season! Remember to check back with us often for new articles.
Remember, no matter who you are shopping for, DealDash can help! Get pet beds, home decor, and toys up for auction daily. Have a great day and happy bidding everyone.
This sponsored DealDash blog article was written by Dawn E, a mother of 3 who loves DealDash. Dawn was compensated for writing this article. Check out Dawn and her cats on Instagram! This blog is written by real DealDash customers. The opinions and advice shared here represent our customers' views and not those of the company.