DealDash Creative Cooking in Fall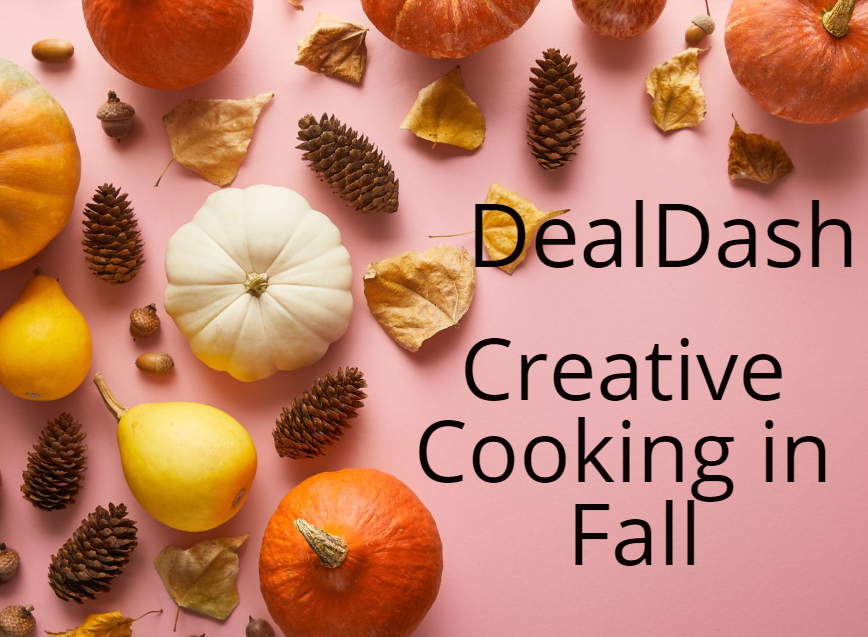 Fall is the perfect time to get creative with your cooking. Get some ideas and get creative this autumn!
The leaves are falling from the trees, and it's getting colder outside. It must be fall! The change of season can affect what you eat for dinner at night – maybe your family is craving a hot soup or a warm loaf of bread. Luckily, there are plenty of delicious recipes to choose from when cooking in the autumn. In this blog post, we will discuss different meals that you can make in the fall. Additionally, we will note how changes in the weather might impact your cooking style. Read on for more information from DealDash.
New Recipe Cooking in Fall
First, are you feeling adventurous? This autumn might be the perfect time for you to step out of your comfort zone and try some new recipes and meals. There are many different kinds of food in the world, and it can be fun to try something
new. When cooking in autumn you might want to cook some international dishes that will warm your family up on a cold night. Some ideas for this include:
· Mexican Tortilla Soup
· French Onion Soup (served with bread)
· Chili (Pork or Beef) served with rice or pasta (topping options include cheese, sour cream, green onions, etc.) This is also good if you have people over! It's easy enough to make lots so everyone has their own bowl of chili.
The site Whats4Eats has a great article about different meals from around the world that are perfect for fall. Check it out and try your favorite tonight.
Getting Creative With Leftovers During Fall
Next, many people are trying to save some money in the fall because they are doing a lot of Christmas shopping. Using your leftovers in a creative way is something that you can do each fall to stretch your budget. This is also a great way to recycle your old food. Just because it's not pretty doesn't mean you can't make something delicious with what you already have in the refrigerator! Try these ideas:
· If you made chili, use some of it as an omelet filling or on top of scrambled eggs
· Use leftover sliced bread to soak up any extra egg yolks/milk that might be leftover from breakfast and use them for french toast for lunch
· Or if all else fails, just put everything together and cook it into a casserole type dish. You can add in some healthy and delicious squash or even pumpkin puree to make it an even heartier meal
Get Cooking Tools this Fall from DealDash
Finally, this autumn is a great time to examine all of your cutlery, chef's knives, and other cooking tools. Throw out or donate the ones that have seen better days, and make a list of kitchen items that you would like to use in your kitchen this fall. Then, check out all of the amazing cooking implements that are available on DealDash.
One of my favorite new items that DealDash offers up for bid is the sous vide nano precision cooker. It even has Bluetooth so you can connect it to your phone. This way, you can step away from the kitchen and monitor your meal from the couch!
Thanks for Reading
Cooking in the fall doesn't have to be difficult – just think of what you're craving tonight at dinnertime, then go from there. Once you find yourself feeling more comfortable cooking in autumn weather, maybe it'll become one of your favorite seasons for preparing meals as well! Thanks for reading the new article.
Now that you have an idea of what sorts of meals that you want to cook this fall, it's time to check out DealDash. You will find the aforementioned sous vide cooker, as well as food processors, knife sets, and slow cookers. No matter what you're looking for this fall, DealDash has it!
This sponsored DealDash blog article was written by Dawn E, a mother of 3 who loves DealDash. Dawn was compensated for writing this article. Check out Dawn and her cats on Instagram! This blog is written by real DealDash customers. The opinions and advice shared here represent our customers' views and not those of the company.