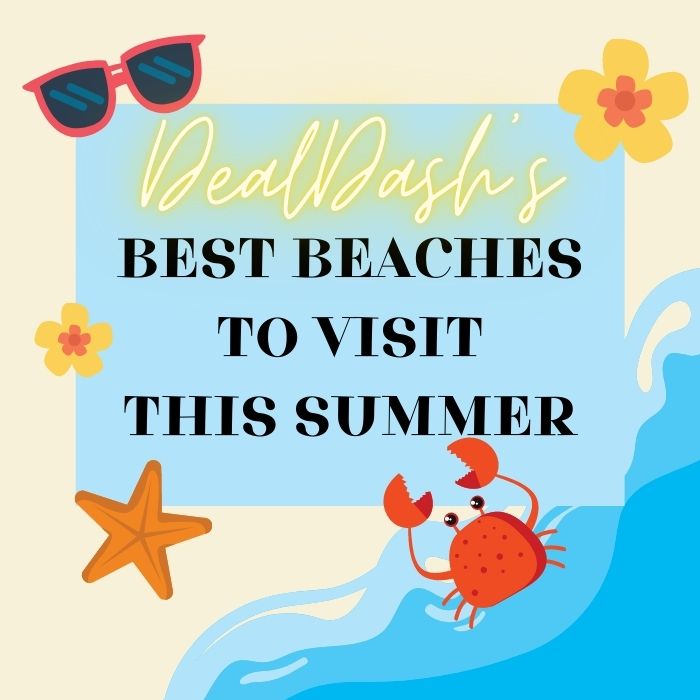 Vacation time is just about here, and it's the perfect time to go to the beach. What is your favorite beach to visit?
Summer has arrived, and for many people, it's time to hit the beach. With so many beaches to choose from in the United States, it may be challenging to decide which one to visit. Here are some of the best beaches in the USA to visit this summer. Read this article for some great travel ideas from DealDash to help you choose a beach to visit this summer.
From Hawaii to California, and South Carolina, too, there is a beach for everyone. Check out these beaches, and plan your summer vacation. However, if you can't take a trip this summer, no problem. This is a perfect time to decide where you want to plan for next year, too.
Waikiki Beach
Located in Honolulu County, Hawaii, Waikiki Beach is home to some of the most beautiful sandy beaches and clear blue waters in the world. This beach is known for its warm and sunny climate, making it the perfect place to relax and soak up some sun. From surfing, snorkeling, and parasailing to shopping and eating, Waikiki has something for everyone.
Clearwater Beach
Located in Florida, Clearwater Beach is a paradise for beachgoers. With white-sand beaches, crystal clear waters, and an endless array of activities, Clearwater offers visitors plenty of fun and relaxation. Whether you're looking to relax or get active, there's something for everyone. Popular activities include surfing, fishing, kayaking, and parasailing.
Myrtle Beach
Located in South Carolina, Myrtle Beach is a great choice for families and couples alike. Here you will find miles of sandy beaches, an abundance of restaurants, and plenty of water sports and activities. From golfing to zip lining, Myrtle Beach has it all. For those looking for a more relaxed atmosphere, there are plenty of shops and arcades as well. Myrtle Beach is one of my favorite beaches from my childhood. Be sure to check out the HUGE ferris wheel, called the SkyWheel, when you visit. It's even air-conditioned!
Coronado Beach
Located near San Diego, California, Coronado Beach is the perfect beach to relax and soak up the Californian sun. The wide and exceptionally clean beach offers magnificent views of the coastline and the San Diego skyline. Surfing, swimming, and sunbathing are popular activities, but there are plenty of other attractions too. Coronado is also home to a variety of shops and eateries.
Also, as a bonus, if you are interested in seeing California's famous seals and sea lions, there is a large population in La Jolla. La Jolla is only about 18 minutes north of Coronado Beach, too! For more information, check out the La Jolla Mom site.
Lauderdale Beach
Located in Florida, Fort Lauderdale Beach is a great destination for beachgoers seeking the ultimate beach experience. This beach is known for its white sand and turquoise waters, but it also offers a variety of activities, including swimming, snorkeling, boating, and jet skiing. It's perfect for a relaxing day under the sun, or a fun-filled day with friends and family.
DealDash Has Beach and Travel Supplies
Going to the beach is a favorite of many families, and everyone will enjoy their trip more with the proper supplies. No matter what beach you choose to visit this summer, DealDash has the beach supplies you need. Bikinis, cover-ups, pop-up beach tents, and Bluetooth speakers are just a few of the beach items you will find on DealDash. You could just go to the beach with a towel, but why not elevate your trip with some of these summer items?
Thanks for Reading
These are just a few of the best beaches in the USA to visit this summer. Whether you're looking for a week-long getaway or a quick weekend escape, there is something for everyone. If you're looking for a beach vacation that's sure to leave you with lasting memories, these are the five best beaches in the USA to visit this summer. Before you make your beach plans, be sure to check out DealDash for sunglasses, bathing suits, and more. Thanks so much for reading, and happy bidding everyone!
This sponsored DealDash blog article was written by Dawn E, a mother of 3 who loves DealDash. Dawn was compensated for writing this article. Check out Dawn and her cats on Instagram! This blog is written by real DealDash customers. The opinions and advice shared here represent our customers' views and not those of the company.