DealDash Parents: How to Throw a Baby Shower in 2023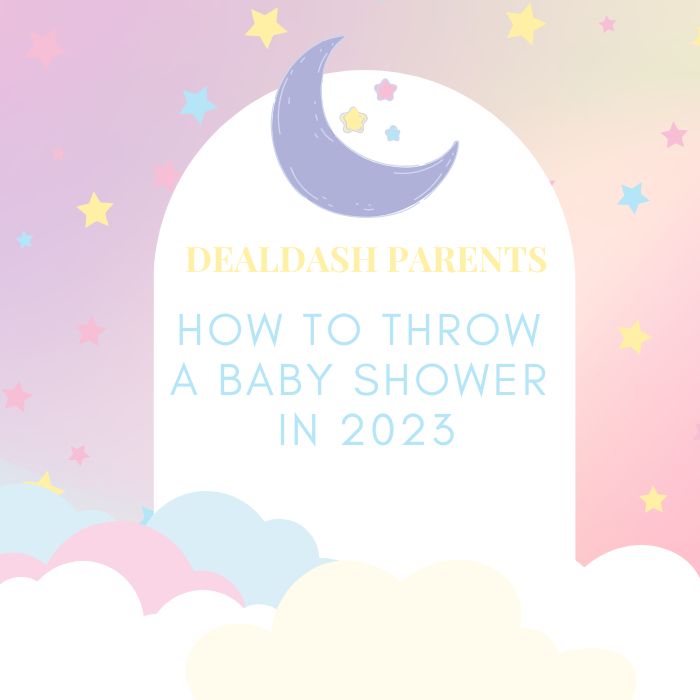 A new baby is such a joy for family and friends alike. Let's celebrate Mom, Dad, and the new baby by throwing a shower!
Throwing a baby shower is an exciting way to celebrate the upcoming arrival of a new bundle of joy. Whether you're a first-time host or a seasoned pro, there are always new trends and ideas to keep in mind. In this post, we'll explore some of the latest tips and tricks for throwing a memorable shower in 2023. Keep reading for some excellent suggestions from DealDash.
Choose a Theme
One of the first steps in planning any party is choosing a theme, and baby showers are no exception. In 2023, some popular shower themes can include gender-neutral colors and patterns, eco-friendly options, or even virtual showers. Of course, there's absolutely nothing wrong with your classic girl's pink princess or blue boy's theme, either! However, if the baby-to-be is going to be a "surprise", then a gender-neutral theme is a must. Try an ocean, jungle, or forest friends shower theme for a baby of unknown gender. Whatever theme you choose, be sure to carry it through all aspects of the party, from invitations to decorations to party favors.
Plan the Menu
No party is complete without delicious food and drinks, and a baby shower is no exception. In 2023, some popular menu items can include plant-based options, mocktails and other non-alcoholic drinks, and creative desserts like cake pops or mini pies. Be sure to take any dietary restrictions or allergies into account when planning your menu, and consider offering a variety of options to suit all tastes.
If you're feeling stuck on what to put on the menu, check out the articles on Mom Junction. Try this one – 20 Easy-to-Make Baby Shower Foods.
Games and Activities
While the focus of a baby shower is usually on the mom-to-be and her new arrival, it's also important to keep your guests entertained. In 2023, some popular shower games and activities might include virtual games that can be played from anywhere in the world, DIY crafts like decorating onesies or making baby mobiles, or even mindfulness exercises like guided meditations or yoga sessions.
When you're thinking about what types of games and activities to have at the shower, keep the mom-to-be in mind. Some moms are more low-key and would prefer word games and scrapbooking. However, other moms are a little wilder and love games such as the "Dirty Diaper" name that candy game. Spoiler warning – Don't click that link if you're eating or have a sensitive stomach. It's just pictures of melted candy, but it looks a little gross!
Get Your Baby Shower Supplies from DealDash
Throwing a shower requires quite a few supplies to ensure that everything goes smoothly and the event is properly organized and decorated. Decorative items like balloons, banners, streamers, and table centerpieces will transform the area into a festive space. Finally, games, prizes, and a camera to capture moments are all added bonuses to make the baby shower a memorable experience for everyone involved.
One of the most important parts of any celebration is taking amazing pictures. You can simply use your phone to take pictures, of course – but for big celebrations like this, a "real" camera is the way to go. DealDash has a variety of cameras to choose from, including mirrorless Canon EOS cameras, in a kit or À la carte. When you get one of these cameras, it will last you for many events to come.
Thanks for Reading
Throwing a baby shower in 2023 is all about staying up-to-date with the latest trends and ideas, while still keeping the focus on the mom-to-be and her new arrival. By choosing a theme, planning a delicious menu, and incorporating fun games and activities, you're sure to throw a shower that will be remembered for years to come. Be sure to check out DealDash when you're shopping for party supplies of all types. Thanks so much for reading, and happy bidding everyone!
This sponsored DealDash blog article was written by Dawn E, a mother of 3 who loves DealDash. Dawn was compensated for writing this article. Check out Dawn and her cats on Instagram! This blog is written by real DealDash customers. The opinions and advice shared here represent our customers' views and not those of the company.