Try the Amazing DealDash BINGO Card!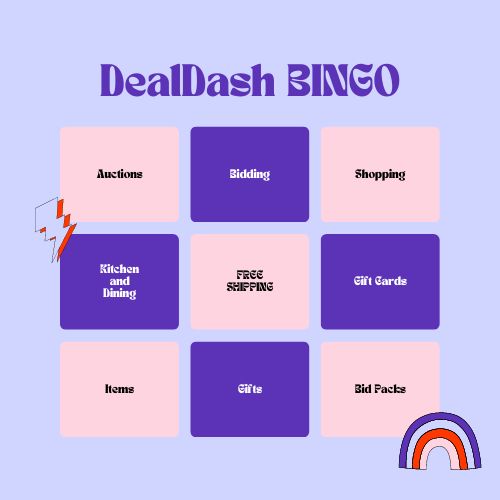 Have you tried the newest DealDash promotion? It's spelled B-I-N-G-O!
Introducing the BINGO promotion on DealDash! This is a new way to earn bids to use on the site. With DealDash BINGO, you can earn extra bids by completing tasks on a card. So, read on to learn more about this fun promotion.
I am so excited to tell you about the newest promo that the folks at DealDash have come up with – the BINGO card! Also, it's quite unlike any Bingo game that you might have gone to with your grandma. Here's how it works:
How Does DealDash Bingo Work?
For starters, Bingo has never been so much fun! On each square is an activity – or challenge – for you to complete, and 200 free bids are at stake if successful. You have one week from when it's posted before the challenge expires; don't miss out on this great offer while there's still time. However, there will be a new activity posted every second week, if you don't complete the current challenge on the square, you will have another chance soon.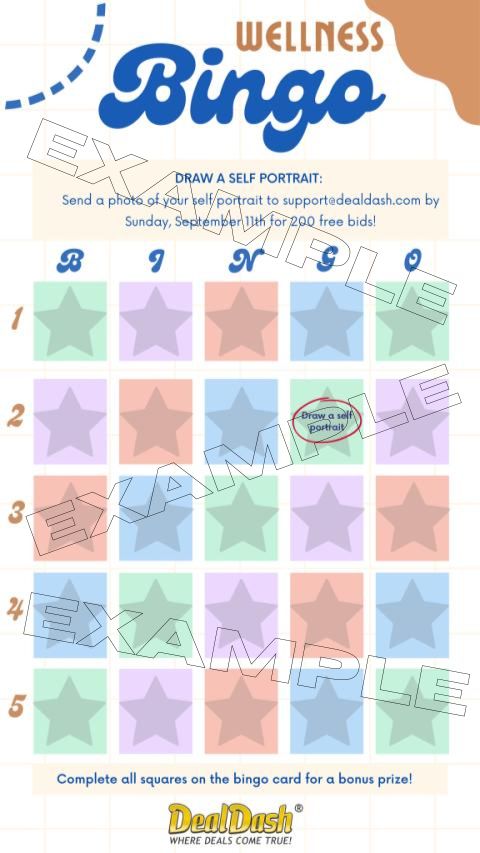 Just Keep in Mind…
This sounds like a fun and exciting challenge, right? However, be sure to keep these guidelines in mind.
To qualify you must have purchased a Bid Pack in the last 7 days
There will be a special prize for bidders that manage to fill in every square on their bingo cards
Send video proof of the completed bingo activity to

[email protected]
Current Activity – Halloween
The current activity is running until Sunday, November 6th, and it is to snap a picture of yourself dressed up for Halloween. However, if dressing up isn't your thing, you can snap a pic of your child/grandchild dressed up, your pet with a costume or fun Halloween-themed collar, or a picture of your Jack o' Lantern or fall decor.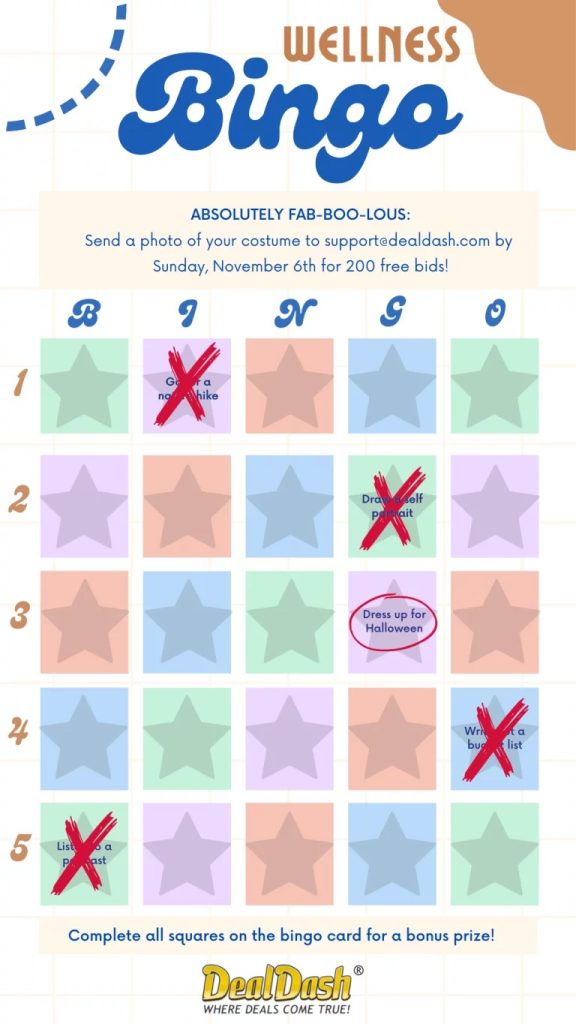 Thanks for Reading
Finally, thank you so much for taking the time to check out the newest article from DealDash. If you're curious about the origins of the game of Bingo check out the site Museum of Play. You might learn some fun facts about one of our favorite games. Have a wonderful day, and happy bidding everyone!
This sponsored DealDash blog article was written by Dawn E, a mother of 3 who loves DealDash. Dawn was compensated for writing this article. Check out Dawn and her cats on Instagram! This blog is written by real DealDash customers. The opinions and advice shared here represent our customers' views and not those of the company.