DealDash Family Fun: Autumn Activities to Try This November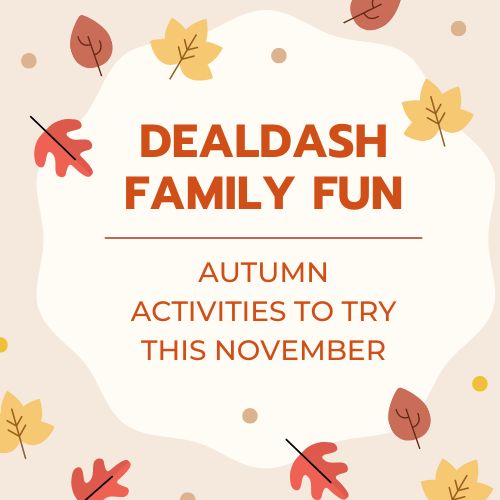 Happy November, everyone! Let's welcome this new month with some fun and informative blogs.
Out with October and in with November! Thanksgiving is just around the corner! That means it's time to start planning some fun activities for the family. It's getting a little cooler day by day, but there are still a few nice days left this year to do activities. However, if the weather isn't cooperating, I have a few ideas for indoor fun, too. Read on for fun suggestions from DealDash for autumn activities to do in November with your family.
Outdoor Autumn Activities
1. Take a "Hike" in Your Neighborhood: No, I'm not talking about hiking in the forest! Get outside and take a nice walk through your neighborhood with your family. Bundle up for some fresh fall air and enjoy the beautiful views of changing leaves and cool breezes. This is also a great time to teach the kids about nature, so keep an eye out for animals and interesting plants as you go along.
2. Visit a Local Farm: Nothing says autumn like cider and cider doughnuts! Take a trip to your local farm, where you will find all sorts of fun activities like hayrides, petting zoos, and fall flavors. You'll get to enjoy the scents and sights of autumn while enjoying a tasty treat.
While you're there, nothing says fall like apples! Pick some fresh, ripe apples straight from the tree while you're at the farm. This is fun for both adults and children alike and lets you enjoy one of autumn's favorite flavors in a hands-on way. Plus, if you have any extra apples, you can make some homemade apple pies or cider to really get into the fall spirit.
Indoor Autumn Activities
1. Baking: There's nothing quite like curling up next to the oven on a cold day with a hot mug of tea and freshly baked cookies or treats. Involve the whole family in this activity by allowing everyone to help measure ingredients and mix the batter. You can even customize some of your favorite treats with fun fall-themed decorations like cinnamon sugar, pumpkin seeds, or even little candy pumpkins!
2. Go on an Indoor Scavenger Hunt: This is a great indoor activity for kids of all ages. Make up a list of clues and hide them around the house or apartment for everyone to find, or use a map to make it more like pirate treasure hunting. This will keep everyone occupied and amused while also teaching them to work together as a team as they hunt down all the answers!
3. Try Some Crafts: Nothing says autumn like getting creative! Whether you're painting pumpkins, making hand-made cards and gifts, or even making your own holiday decorations, this is the perfect season to get crafty. Involve the whole family in making scarves, jewelry, and other fun items that you can enjoy throughout the fall and winter months.
If you're not very crafty but want to give it a try, check out HGTV. They have a fun article with over 90 crafts for the whole family to do in the fall.
DealDash Can Help With Autumn Activities
No matter if you are looking for indoor or outdoor autumn activities, DealDash has you covered! You will find some amazing items for both inside and outside to entertain you and your family this fall. You will find fun outdoor items such as go-carts and a fire pit, and indoor things like a racing wheel for video games and even…ANIMAL CROSSING! Animal Crossing, of course, is my most favorite Nintendo game of all time.
Thanks for Reading
No matter what autumn activities your family chooses to do this November, I hope you have a great time together! With so many fun things happening during this season, it's easy to see why autumn is one of my favorite times of the year.
What do you think? Have any suggestions for some awesome autumn activities for families? Share them in the comments below!
With so many different options for autumn activities, there's no shortage of ways to make wonderful memories with your family this November. Whether you're baking delicious treats or going on a scavenger hunt, I know your family will have a fantastic time. So why not get out there and start exploring all the possibilities? Have a great day, and happy bidding everyone!
This sponsored DealDash blog article was written by Dawn E, a mother of 3 who loves DealDash. Dawn was compensated for writing this article. Check out Dawn and her cats on Instagram! This blog is written by real DealDash customers. The opinions and advice shared here represent our customers' views and not those of the company.