DealDash's Fall Cleaning Checklist: Chores You Can't Skip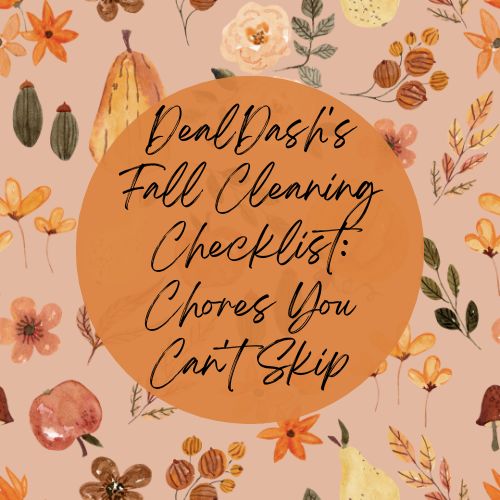 It's getting chilly outside, but you still have time to complete these fall cleaning chores before winter arrives.
We have arrived at the end of October, and that means it's time for fall cleaning to prepare for winter! This checklist will help you get your home ready for the colder months. One of the great things about fall cleaning is that many of the chores are different from the other seasons. For example, you may need to clean your gutters in the fall, when they're not clogged with leaves. Or, you may need to winterize your home before cold weather arrives. Keep reading for a detailed list of fall cleaning tasks from DealDash.
Fall Cleaning – Gutters
Cleaning the gutters: As leaves start to fall, it's a good idea to clean out your gutters so they don't clog up and become dangerous. If you clear them out before snow starts to accumulate, you may be able to avoid some of those nasty winter leaks!
To clean your gutters, you'll need a ladder, a bucket, a hose, and a garbage bag. Begin at the top of your house and work down. Start by climbing up the ladder and emptying the bucket of leaves and other debris into a garbage bag. Next, use the hose to rinse away any remaining dirt or mud. Finally, check for any leaks or holes in the gutters and repair them if necessary.
Fall Cleaning – Gaps in Windows and Doors
Inspecting windows and doors for gaps: You might not think about it until it's too late, but cold air can get through small cracks around windows or doors. Look in your basement or garage where air is more likely to leak through. You can seal these gaps with weatherstripping or caulk. You can also pick up a kit that includes plastic sheeting to cover your windows and fireplace (if you don't use it) to combat the wind from the chilly weather outside.
Fall Cleaning – Fireplace
Cleaning the fireplace: Speaking of the fireplace, the fall is a great time to make sure your fireplace is clean. You may need to clean out the ashes and do some maintenance before it gets too cold outside.
If you have never cleaned your fireplace before, now is a great time to start! Check out this article from HGTV to get instructions to help get your fireplace clean.
DealDash Can Help With Fall Chores
DealDash offers high-quality home essentials that make it easy to get your house ready for winter. Whether you need a new vacuum cleaner to clean the floors, a dehumidifier to keep your home dry, or even a new showerhead for steamy showers in the winter, DealDash has a wide selection of products to help you get ready for fall.
So if you're looking for quality tools that will make all your fall cleaning tasks easier, head over to DealDash today and enjoy browsing the auctions.
Thanks for Reading
These are just a few tips for fall cleaning tasks that you'll want to add to your cleaning checklist this season. By taking care of these chores now, you can help ensure that your home stays warm and cozy all winter long. Get started on your fall cleaning chores today. Make sure you check DealDash for things to make your home cozy and clean such as a humidifier and new showerhead.
What other tasks do you need to add to your fall cleaning checklist? Share them with us in the comments! DealDash hopes you have a wonderful day. Have fun shopping on DealDash, and happy bidding everyone.
This sponsored DealDash blog article was written by Dawn E, a mother of 3 who loves DealDash. Dawn was compensated for writing this article. Check out Dawn and her cats on Instagram! This blog is written by real DealDash customers. The opinions and advice shared here represent our customers' views and not those of the company.