DealDash Halloween: Non-Trick or Treat Activities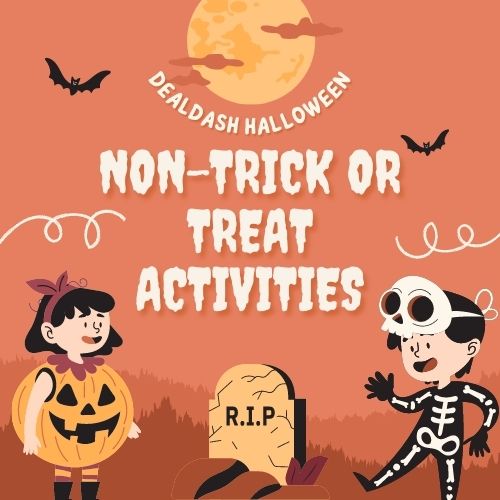 It's almost time for Halloween! But what if you want to have a spooky good time without going door-to-door?
Are you looking for something to do with your kids this Halloween that doesn't involve going door-to-door? Check out these alternate activities that will keep the kiddos entertained! From pumpkin patches and hayrides to haunted houses and monster mazes, there's something for everyone. So grab your costumes and get ready for some fun. Read on for some fun ideas from DealDash.
Halloween Alternative #1 – Pumpkin Patch
Visit a local pumpkin patch: Many communities and farms offer the chance to pick out your own pumpkins, or even carve them on-site. This is perfect for kids who love getting their hands dirty (and can rev up the excitement around Halloween).
The variety is one of the best things about visiting a pumpkin patch rather than just picking one up at the grocery store. Most supermarkets just have orange pumpkins available. However, at the pumpkin patch, you will find many varieties such as yellow, green, and white.
Another good thing about pumpkin patches is that many donate their profits to charities. Some of these charities include schools, churches, and youth organizations.
Halloween Alternative #2 – Haunted House
Go see a haunted house: Whether you want to attend a big, popular attraction or find one that's small and more intimate in your community, there's something for everyone when it comes to horror houses this time of year. Just be sure to research beforehand so you know what's safe – some might be too intense or scary for young children. Here's a tip – for younger kids, choose a haunted house that's put on by a school rather than a bigger, professional one. This way, you know that the actors will be less likely to get too carried away with the scare factor.
Halloween Alternative #3 – Hayride
Take a hayride: Nothing says fall quite like taking a leisurely ride through an open field or in the woods on a hayride. There are plenty of farms and communities that offer this activity, and it's almost always accompanied by some festive fall treats like hot apple cider or caramel apples. The best part about riding around on a hayride? You get to see the beautiful colors of autumn!
Halloween Alternative #4 – Make Treats at Home
Make Halloween Treats: Candy might be the first thing that you think of when you hear "Halloween", but there are plenty of sweet treats that you can make at home. For younger kids who aren't quite ready for trick-or-treating, you could make Halloween cupcakes or cookies with them. For older kids, why not try making some homemade candy bars? Your kiddos will love getting creative in the kitchen and whipping up something new.
If you want to try and make Halloween treats at home, check out Woman's Day magazine. They have a great article with over 50 recipes for Halloween treats.
DealDash Has Kitchen Supplies to Make Treats
If you're looking to stock up on all the supplies you need to make some Halloween treats, check out DealDash. From cookie sheets and stand mixers to cake pans and cupcake tins, there's something for everyone. So what are you waiting for? Head over now and get bidding!
Thanks for Reading
Overall, there are many fun alternatives to trick or treating that are perfect for kids of all ages. Whether you choose to visit a pumpkin patch, go to a haunted house, take a hayride, or do any other spooky activity, your kids will love being able to participate in Halloween festivities without having to worry about going door-to-door. So grab your family and get out there this season – you're sure to have a blast. Head over to DealDash and pick up a few kitchen supplies such as a stand mixer to make some Halloween treats. Have a great day, and happy bidding everyone!
This sponsored DealDash blog article was written by Dawn E, a mother of 3 who loves DealDash. Dawn was compensated for writing this article. Check out Dawn and her cats on Instagram! This blog is written by real DealDash customers. The opinions and advice shared here represent our customers' views and not those of the company.