DealDash Birthday Traditions: Memories Worth Making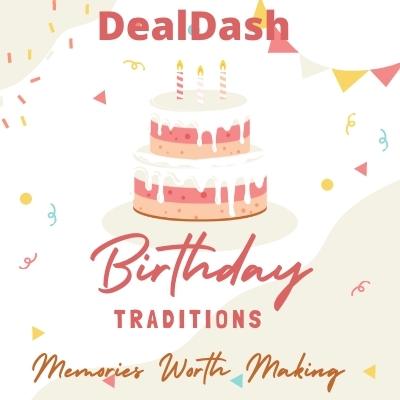 There's something that every single person in the whole world has in common- we all have a birthday! Have more fun on your special day with birthday traditions.
Birthdays are a time to celebrate! They are a time when we reflect on the year that has passed and look forward to all of the adventures that the coming year will bring. For many people, birthday traditions are an important part of the celebration. They help to make memories that will last a lifetime. In this blog post, we will discuss some of the most popular birthday traditions and how you can make them your own! Read on for some interesting information, from DealDash.
Birthday Traditions – Cake
First, let's start with the absolute most popular birthday tradition – birthday cake! A traditional birthday cake is usually decorated with candles and the person's name. The number of candles on the cake corresponds to the person's age. The birthday boy or girl blows out the candles and makes a wish!
One way to really personalize this tradition is to make your own birthday cake each year as a family. Instead of buying a cake at a bakery, why not have the whole family participate in the cake-making tradition? This will make some really great memories for looking back upon each year.
This year, start a delicious birthday tradition by making your own cake. If you are feeling more ambitious than just using a boxed cake, then check out this article by Taste of Home. You will find 24 recipes for cakes made from scratch.
Birthday Traditions – Gifts
Next, another popular birthday tradition is receiving gifts from family and friends. One way to make this tradition more personal is to focus on giving and receiving heartfelt, handmade gifts. These can be things like homemade cards, artwork, or even baked goods. Not only will the recipient appreciate the thoughtfulness of the gift, but you'll also have fun making it!
Think back, what are some of the gifts that you truly remember and appreciate. Is it the 50th t-shirt from the mall, or is it the quilt that your mom lovingly made herself using your old sports or school t-shirts that don't fit you anymore? A handmade gift truly comes from the heart.
Birthday Traditions – Local Trip
Finally, if you are looking to incorporate a new birthday tradition into your family, why not start taking a special local trip on each person's birthday? This can be something as simple as going to a nearby city for the day or taking a hike in a beautiful nature spot. The key is to make it something that the birthday person really enjoys!
This tradition is great because it helps to create lasting memories and it also gives you an excuse to get out and explore your own backyard. You might be surprised at all of the interesting places that you live near that you have never explored!
DealDash Celebrates a Very Special Birthday
Speaking of birthdays, did you know that DealDash became a teenager this year?! That's right! Just last week, DealDash turned 13. Can you believe it? DealDash would like to share this very special birthday with you by having some special sales this week. There is a special event each day, but some of the highlights include 90% off your win and 2X time as highest bidder (TAHB) on Wednesday the 9th as well as Saturday the 12th and Sunday the 13th. Additionally, there will be a special gift on Wednesday, so be sure to sign in and place just 1 bid.
Thanks for Reading!
We hope that you have enjoyed this blog post about popular birthday traditions. Be sure to check out DealDash for some great deals on things like birthday gifts and items that you can use to make special birthday treats. Check out the Kitchen and Dining category and find stand mixers, air fryers, and more small appliances.
We here at DealDash sincerely thank you for your business over the years. You are cordially invited to take advantage of our special sales this week as we celebrate our 13th year in business. Thanks for reading!
This sponsored DealDash blog article was written by Dawn E, a mother of 3 who loves DealDash. Dawn was compensated for writing this article. Check out Dawn and her cats on Instagram! This blog is written by real DealDash customers. The opinions and advice shared here represent our customers' views and not those of the company.