The ABCs of DealDash: Learn the Lingo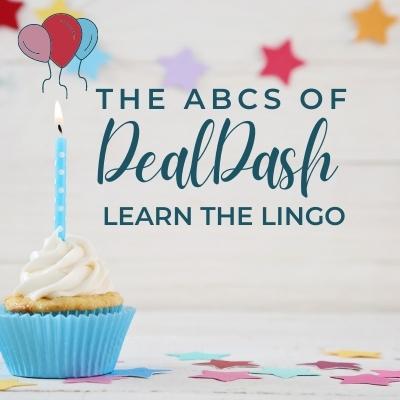 DealDash is having a birthday extravaganza this week. Get ready to party by learning the lingo.
If you're new to the world of online auctions, it can be confusing trying to understand all of the acronyms and terminology used by DealDash bidders. In this blog post, we will go over some of the most common terms and definitions used in the DealDash universe. By learning these terms, you'll be able to bid with confidence and get the best deals on amazing products! Read this article to learn the lingo and get the scoop on this week's sales.
DealDash Lingo #1 – BIN
BIN stands for "Buy It Now." This is the option to purchase an item at the retail price that is listed on each and every item up for bid. You can use BIN any time during the auction, but keep in mind that once you do, you are committed to purchasing the item. Once you have paid for your BIN, you will receive all of the bids back that you placed on the auction. You can use these bids again on the next auction that you enter.
So, if you have spent the number of bids that equals the retail price, it makes sense to do a BIN so you will get your bids back, and the item you wanted. Also, you will receive free shipping on every item that you win or BIN.
DealDash Lingo #2 – TAHB
TAHB stands for "Time As the Highest Bidder." Each time you are the highest bidder during the auction, your bidder bar fills up. When the bar is full, you can claim your free bids and your level goes up. The higher your level, the more free bids you earn on each auction that you enter. TAHB is important because you can earn quite a few bids without any extra effort. Simply bid as you normally would, and your bid meter will fill up and reward you.
Additionally, during special promotions, DealDash often kicks it up a notch! You can often earn a 2X on your TAHB meter. This means that you are earning your way to free bids twice as fast!
DealDash Shorts
DD: DD is short for "DealDash." We're the company that brings you online auctions with unbeatable deals!
Bid: A bid is an offer to purchase an item at a certain price. In online auctions, you place bids against other bidders in real time – the last person to bid wins! The winner then pays the final auction value, which is typically (but not always) significantly lower than the regular retail price.
Bidder: A bidder is someone who participates in online auctions. As a bidder, you will place bids on the items that you are interested in winning. The last bidder at the end of the auction will win.
Bid Meter: The bid meter is located on your account page. It shows how many free bids you have earned based on your participation in recent auctions. Be sure to keep an eye on your bid meter so you can click the "Claim" button to grab your free bids.

It's Party Time, DealDash Style!
Finally, come celebrate DealDash's 13th birthday with us this week. You can show off your newfound knowledge of DealDash lingo, and jump into the auctions with confidence. Find awesome sales and promotions this week such as 2X TAHB, 50% off auction wins, and even free bids. Check the site each day to see which deal of the day is happening.
Also, be sure to check out DealDash's Wikipedia page to see the history and backstory of our favorite site to bid. Learn something new, and then come back and check out the birthday celebration!
Thanks for Reading
I hope that this article has helped you to understand some of the acronyms and terms used on DealDash. Be sure to check back for more articles on how to get the best deals on DealDash. Do you have any questions about DealDash? Leave a comment down below and let us know! We would love to hear from you and don't forget to check back each and every week for more helpful articles. Have a great day and happy bidding everyone!
This sponsored DealDash blog article was written by Dawn E, a mother of 3 who loves DealDash. Dawn was compensated for writing this article. Check out Dawn and her cats on Instagram! This blog is written by real DealDash customers. The opinions and advice shared here represent our customers' views and not those of the company.