DealDash Cleans: Is Your House Ready for Spring?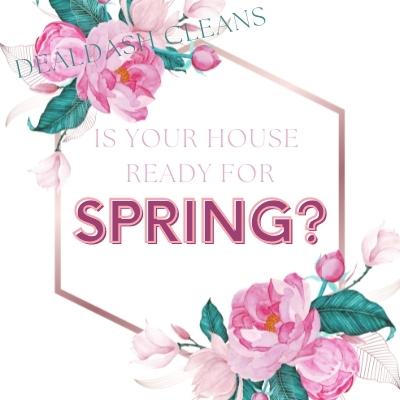 Spring is almost here!!! It's time to get your house ready for spring – here's how.
The winter is coming to an end and it's time for spring cleaning! This is the time of year when you should be getting your house ready for the warmer months. There are a lot of different things that need to be done, and we're here to help you out. In this blog post, we will discuss the different chores that need to be done at the end of winter. We'll also give you some tips on how to make the process a little bit easier. DealDash is here to help, so let's get started and get ready for spring!
Get Ready for Spring – Make a Plan
The first thing that you need to do is take a look at your house and figure out what needs to be done. This can be a little bit daunting, but it's important to know what you're up against. Once you have an idea of what needs to be done, you can start planning out your strategy.
Are you feeling stumped as to how you should even begin? Not a problem. Better Homes and Gardens has an excellent article on how to make a "whole house" cleaning plan. Check it out for some ideas to get you started.
Get Organized = Ready for Spring
Next, one of the most important things when it comes to spring cleaning is organization. You need to make sure that you have everything that you need before you start working on a task. Also, if you don't have something, it's going to slow down the process and make it more difficult than it needs to be. Make sure you have everything you need on hand, such as trash bags, cleaners, rags, and gloves.
Get Ready for Spring by Decluttering
Decluttering your home relieves stress and makes you feel more organized. Additionally, you may be psychologically impacted by a cluttered home since you might believe something is neglected. Decluttering your mess in the springtime is a wonderful idea. Organize your closet, clear out your workplace, and tidy up that junk drawer to get rid of all those odds and ends. Once you declutter your house, you'll feel a lot better.
Get Clean With DealDash
Finally, did you know that DealDash has a number of fantastic cleaning items? If you're looking for a vacuum, DealDash is the place to go. Remember, if you are planning on buying a vacuum, you should bid on one on DealDash. Also, if you don't win the vacuum, it's no big deal! You may make a "Buy It Now" or "BIN" on DealDash for the advertised price and get your bids back that you used in the auction. You will also receive free delivery on the item, whether you won it or purchased it.
Thanks for Reading
We hope that you found this blog post helpful. Spring cleaning doesn't have to be a daunting task when you're prepared and have a plan. Get your house ready for spring with DealDash!
Visit now and see how much you can save on all of your household needs. Get a new vacuum or kitchen appliance in an auction on DealDash. Have a great time and happy bidding everyone!
This sponsored DealDash blog article was written by Dawn E, a mother of 3 who loves DealDash. Dawn was compensated for writing this article. Check out Dawn and her cats on Instagram! This blog is written by real DealDash customers. The opinions and advice shared here represent our customers' views and not those of the company.