DealDash Easter Traditions – Fun Kid Activities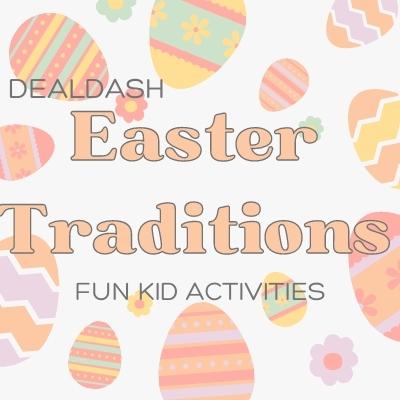 Easter is on its way – are you and your family ready? There's nothing better than a fun holiday with family to put you in a good mood.
Easter is a time for family, friends, and fun! There are so many traditions that people celebrate during Easter weekend. From egg hunts to church services, there is something for everyone to enjoy. If you are looking for some ideas on how to have fun with your kids this Easter, look no further! In this blog post, we will discuss some of the most popular Easter traditions and provide tips on how to make them even more enjoyable for your little ones. Read on for some fun ideas, from DealDash.
Easter Tradition – Dying Eggs
Just to begin with, one of the most popular Easter traditions is dying eggshells. This is a fun activity that the whole family can enjoy. All you need are some hard-boiled eggs, food coloring, and white vinegar. First, hard-boil your eggs and allow them to cool. Once they are cooled, add a few drops of food coloring to each egg. Then, add one tablespoon
of white vinegar to each cup of water. Finally, dip your eggs into the colored water and allow them to dry on a paper towel.
If your eggs aren't coming out how you would like them, you might need a little help from a professional. Thankfully, the Martha Stewart site has a great guide on the best practices for dying eggs. Check it out for some "Egg-sellent" results.
Easter Tradition – Egg Hunt
Next, after you have dyed your eggs, another Easter tradition that kids always enjoy is the egg hunt. If you are hosting an egg hunt this year, be sure to hide the eggs in different places around the house or yard. For added fun, you can fill the eggs with small toys or candy. Another tradition that kids love is decorating Easter eggs. You can use traditional dye kits or get creative and use markers, glitter, and other materials to decorate your eggs.
Easter Tradition – Church Services
Finally, if you are looking for a more religious activity to do with your kids this Easter, consider attending a church service together. Many churches offer special services and activities for families during Easter weekend. This is a great way to teach your kids about the meaning of Easter and help them understand why we celebrate this holiday.
Get Easter Gifts and Decorations on DealDash
DealDash has so many different options when it comes to getting Easter gifts for your family and friends. We have everything from art like statues and paintings to sheets and comforters. No matter what you would like to give someone as an Easter gift, DealDash has you covered. Find gifts for the home and garden for family members of all ages.
Thanks for Reading
We hope that you found this blog post helpful. Use these tips to make Easter even more fun for your kids this year. Visit DealDash for all of your Easter needs. Have a happy Easter!
How do you and your family celebrate Easter? Do you have any special traditions that you enjoy? Share your thoughts and experiences in the comments section below. We would love to hear from you. Thanks for reading, and happy bidding everyone!
This sponsored DealDash blog article was written by Dawn E, a mother of 3 who loves DealDash. Dawn was compensated for writing this article. Check out Dawn and her cats on Instagram! This blog is written by real DealDash customers. The opinions and advice shared here represent our customers' views and not those of the company.