DealDash's Black Friday Sale is Coming!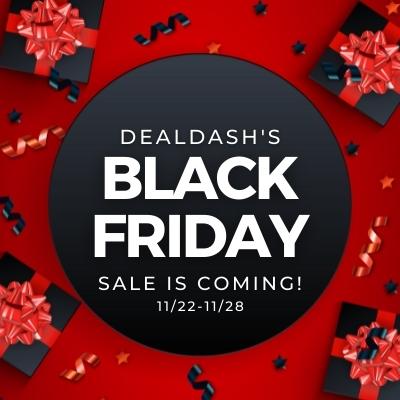 Don't miss out on DealDash's Black Friday sale this year. Visit DealDash from 11/22-11/28 for extra savings and deals.
I have got some great news for you. This year, on DealDash, there will be both a Black Friday sale week AND a Cyber Monday sale week. Thanksgiving is just around the corner and DealDash is ready with their biggest sale of the year. DealDash will be offering unbeatable deals on electronics and household items that won't be available anywhere else. In this post today, we will be talking a little bit about the history of Black Friday, as well as some of the treats that DealDash has in store for this year. Be sure to visit DealDash between November 22 and November 28th, 2021 to take advantage of these deals.
Black Friday Sale History
Let's start out with a little history about Black Friday. This is the day that follows Thanksgiving Day, which falls on November 25th of this year. This day is typically thought of as the first Christmas shopping day after the turkey feast
with family. Black Friday became associated with incredible sales events at major retail stores where people would line up outside the night before knowing that they could get unheard-of deals on electronics and consumer goods.
Way back in the days before online shopping, you could do your shopping at brick-and-mortar stores or order items in the mail from a catalog. When doing the latter, it would be many weeks or even months before you would receive the things that you ordered. Therefore, for many people, it made more sense to do their holiday shopping in-store. The Friday after Thanksgiving became a very popular day for people to get all of their Christmas shopping done. This was because most families tended to get together for Thanksgiving, and were usually still together the following day. Why is it called "Black Friday?" There are a couple of different reasons, check out this article from Money Crashers to learn more about it.
DealDash Black Friday Sales this Year
Finally, what you've been waiting for – the DealDash Black Friday sales! This year, you can stop by for an entire week's worth of events and sales. Beginning on November 22, and running through November 28th, there are many different events happening. For example, you will find Leaderboard Auctions, and an increased Time As Highest Bidder multiplier that is at least 2x. At times, DealDash will even bump it up to 4X, but you will have to check the site periodically throughout the week to catch the elusive 4X multiplier. Additionally, do you sometimes week frustrated about coming in second place? Well, have I got some good news for you. You will also find Runner Up Auctions that award a buy it now (BIN) discount to the second-place finisher during Black Friday week. DealDash is known for throwing in additional events and discounts, so be sure to keep an eye on the site from 11/22-11/28 to see if you can spot some special events.
Thanks for Reading
Thanks for reading this DealDash article on Black Friday week sales. Black Friday is one of the biggest shopping days of the year and this year, you can shop at DealDash for an entire week! Check back later to learn more about Cyber Monday week deals!
Do all of your holiday shopping on DealDash this year. You will find presents for everyone on your list, including yourself! What are you waiting for? Visit DealDash today and start saving.
This sponsored DealDash blog article was written by Dawn E, a mother of 3 who loves DealDash. Dawn was compensated for writing this article. Check out Dawn and her cats on Instagram! This blog is written by real DealDash customers. The opinions and advice shared here represent our customers' views and not those of the company.